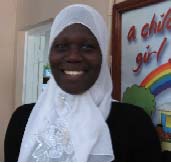 FAWEGAM, a non-government organisation that has been known for empowering and developing girls' education, recently organised a program called "Take your daughter to work" at the Girls' Guide headquarters in Kanifing. The program brought together girls from five regions of The Gambia. In today's edition, She She She had a chat with some of the fawegam's staff on the issue of the program; please read on:
She She She: Can you tell us a little bit about fawegam?
Oley Cham Jallow, Accountant and one of the facilitator: Fawe is a Pan African non-government organisation founded in 1992 and was registered in 1993. The idea of forming the organisation was conceived by five women, Education Ministers from Africa who were motivated to attain Education For All and gender equity supporting girls and women to acquire education for development. "Fawegam is the Gambian chapter and was inaugurated in December 1997 and registered as an NGO in 1998. It held it's first AGM in September 1998".
She She She: what was the main objective of the program?
Adama Jallow a facilitator at the program: This program started in the United States, with the objective to sensitise children about the possibilities, importance and continuation of education. Since then, many countries emulated the program, "like young female students accompany women to their work place to observe various jobs and renew their commitment to continuing their education". Girls in The Gambia face the same obstacles that female students of other countries encounter such problems as: low self-esteem, peer pressure not to excel, low teacher's expectations, few role models.
This program attempts to combat the problems/obstacles faced by students, by encouraging promising girls to take their education more seriously.
She She She: As the assistant coordinator for fawegam, can you tell us more about the program?
Absatou: The program "Take your daughter to work" has been a very successful one, because they have many women from all walks of life who took daughters from these five regions, and five girls represented a particular school. "Each of these were taken away by a very prominent Gambian women, among them we have lawyers, doctors, business women, head teachers, managing directors of NGO's, police inspectors just to name a few. So these girls went with these women for four days going to work with them to enable them to see how they work and see what they are doing. These include rubbing shoulders with men, working hand in hand with men and walk side with men. And the other thing is that seeing these women as mothers in the homes with their children, husbands and in the extended family system, which is one of the virtues of a good woman in The Gambia. So these children have been empowered so much so that one of them whenever she gets back to her village, she had a friend who is married and she call us and asked us to call the friend and advice her about early marriage. This really shows us that the few things they have learnt is well understood and they will able to translate when they get back home. These girls are role models because when they came, they were very shy but by the end of the day they were able to speak out what they want and how they want it to be done. They learn a lot of things like their rights as children; they have been empowered by going through self esteem training, which is some sort of an eye opener for them. They have been really exposed to a lot of role models because most of them who are from places like Suduwol, Fatoto and Njoreng etc, only have teachers and nurses as role models.
She She She: why the girls in Greater Banjul don't take part?
Absatou: When we talk of the Greater Banjul is quite different because there are lots of lawyers, accountants, business women, directors to name a few around the girls in this area.
On the performance of the girls, Madame Saidykhan said they participated to a lot of things, especially during their field trip to the university, where they asked a lot of questions. These girls were keen but their only problem was how to get enroll to the university, and from there they have set a goal for their future that they need to fulfill for themselves.
She She She: Who sponsored it?
Absatou: It was jointly sponsored by fawegam and Peace Corp
She She She: What piece of advice do you have for the public?
Absatou: I'm urging parents to retain girls in school and give them all the rights that they should get and give them best education. But then I have some thing for mothers because some of these girls are so loaded with domestic works and have no time to read. So let them reduce the load and have the boys take care of their own responsibility so that we can have equal opportunity at homes and schools.
Read Other Articles In Article (Archive)