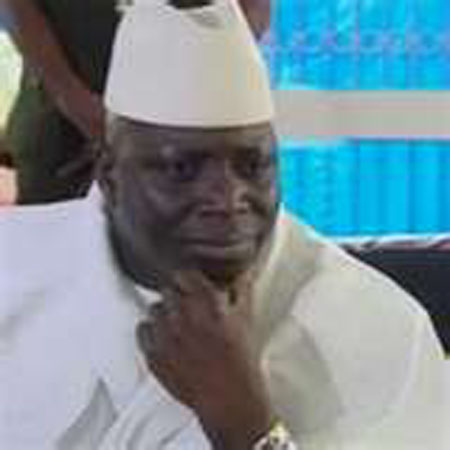 President Yahya Jammeh has said that he is sick and tired of telling people what they should do as responsible compatriots.
As a result, he said "I will dismiss and employ until I have people who are ready to work. So the broom has not yet even started, because I am no longer going to talk every time. Some of these things could have been fixed without me going around seeing the problems," stated President Jammeh.
Jammeh made this remark last Saturday in Banjul as he went on a surprise tour of the capital to acquaint himself with the situation.
The current situation, according to President Jammeh, has left much to be desired, stressing that the situation "is like as if there are no Ministers, Permanent Secretaries and Directors responsible for tackling enormous problems". "All what they are interested in, is traveling or projects that they can extort money without us knowing it. Those are the sorts of things that they are interested in. But I will set an example. I will dismiss until I have Gambians, who are ready to work and that is the bottom line," he stressed.
Commenting further, the Gambian leader expressed shock at the deteriorating conditions of facilities at Police Line and the Fire Service Headquarters, describing the later as an "eyesore".
"I do not know whether the Chief Fire Officer has ever gone on tour of his installation, and these are the type of things that they are supposed to do. If you are a head of a department you have to go and see the living conditions of the people who work under you. But I have to go round and see for myself and and they will sit down and say there is no fund," said President Jammeh.
Jammeh also expressed disappointment with the state of the Police Line in Banjul, describing the condition as an "insult".
To the Gambian leader, national development is a challenge, but noted that the challenge becomes less painful if everybody in the entire government system does the work as expected. Such, he stressed will relieve the pain in national development crusade.
Speaking shortly after the end of the inspection, the President observed that the current situation of the road network in the city has been compounded by the unexpected downpour of the past two years.
Jammeh said this situation has resulted in an increased in water table, thus leading to over-saturation and mudiness of the soil, with the problems being compounded by heavy trucks.
The President also observed that there is no way that they can address the road network problem in Banjul on permanent basis without addressing the drainage system there.
"But thank God we managed to get fund for one of the companies to do a feasibility study and a design for the Banjul drainage system, including the pumping station at Bond Road, as well as the design of the said road," he concluded.
This report was monitored on the GRTS.
Read Other Articles In Article (Archive)