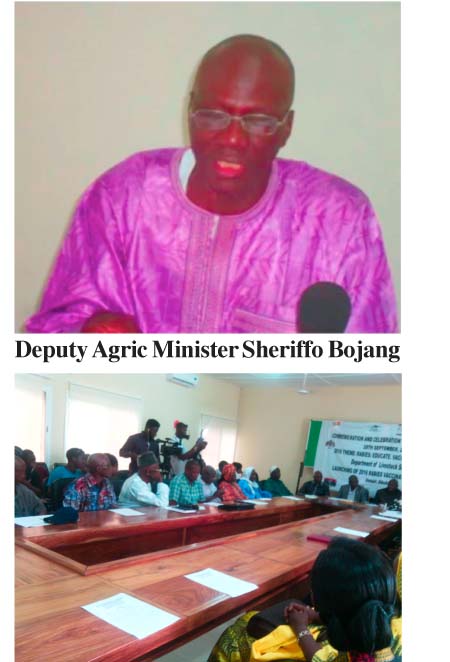 The Gambia on Wednesday 28 September 2016 joined the rest of the world to observe World Rabies Day.

The official celebration, held at the Department of Livestock Services at Abuko, was attended by senior government officials and representatives of some international organizations in the country.
The theme for this year's celebration is: "Educate, Vaccinate and Eliminate".
Delivering his launching statement, Sheriffo Bojang deputy Minister of Agriculture, thanked all those who attended.
He said The Gambia marks the day with the launching of a free rabies vaccination campaign, that "will be conducted by the Department of Livestock Services" under the Ministry of Agriculture.
The deputy Agriculture minister said: "It is indeed one world and one health and, therefore, I would like to say how grateful I am to the collaborating partners of DLS, especially the Ministry of Health, the GVC and GVMA, Gambia Tourism Board, Animal Welfare Groups like Gambia Horse and Donkey Trust and GambiCat, and private veterinarians, for organizing these activities, which will go a long away in fostering animal health and welfare services in The Gambia.
He went on to talk about "preventing human deaths due to rabid dog bites in the country; establishing the required platform for collaboration between government and non-government organisations; providing a cost-free rabies vaccine to owners of eligible dogs; reducing the risk of getting rabies from dog bites; and, therefore, fostering a safer Gambia for all."
The deputy minister said rabies remains the world's most deadly disease, but it is also "hundred percent preventable".
"Rabies kills an estimated 70,000 people in the world, mostly children in the developing countries in which approximately 95% of human cases are due to rabid dog bites, according to the world Organization for Animal Health (OIE).
Rabies is transmitted from animals to humans, and "the main source of the disease in African countries is unvaccinated dogs."
Controlling the disease in dog populations means it will disappear in all other species, and will no longer be such a risk to humans, Minister Bojang added.
In his remarks on the occasion, Livestock Services director-general Dr Duto Fofana said: "I have the singular honour and privilege to welcome you all on this auspicious occasion of the launching of the 2016 rabies vaccination campaign, as part of the celebrations of World Rabies Day."
This year, The Gambia joined the 180 OIE member countries to celebrate the occasion.
Read Other Articles In Article (Archive)