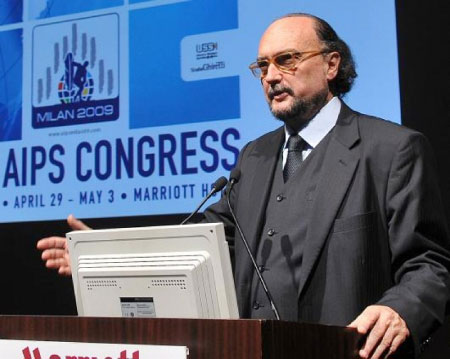 International Sports Journalists' Day 2012 – "Spring Revolution" is needed to sweep a radical cultural change through sport
Dear Colleagues,
Yesterday , July 2, 88 years after AIPS was established on a boxing ring at the Paris 1924 Olympic Games, we celebrate International Sports Journalists' Day.
In his annual message AIPS President Gianni Merlo addresses a number of issues including the continually-evolving work of journalists and photographers, the campaign for better working conditions, the AIPS Young Reporters' Programme which will continue in Azerbaijan later this year, the plan to honour veteran Olympic journalists in London, and the serious matter of corruption in sport.
Below is the full text of the speech: LAUSANNE, July 2, 2012 - In this Olympic Year the significance of celebrating International Sports Journalists' Day is all the more important.
From the very beginning of our association at the Paris 1924 Olympic Games 88 years ago until now we have lived through many developments in the media and it seems that the one advancement which has helped us the most – technology – is becoming the most demanding as it revolutionizes our way of working.
Our profession has become more complicated, and in order to satisfy the public's thirst for instant news, we are expected to multi-task and are no longer working to a traditional deadline, but one that never has an end. The advent of electronic media has become something of a Trojan horse – more and more media houses are downsizing and outsourcing, and journalists are losing their jobs. The ones who are left behind are expected to work longer, harder and for less.
LONDON 2012 In this tough economic and political climate it is our duty to support our colleagues by lobbying for better working conditions. AIPS is currently campaigning for free Internet at the London 2012 Olympic Games. While almost all of the leading federations routinely provide high quality Internet service at top events for the working media at no cost, the accredited media is still forced to pay large sums of money to have Internet access in London. And journalists staying in LOCOG media accommodation face a double burden with excessive Internet charges imposed by the media hotels.
AIPS has received overwhelming support from our members worldwide for the London Internet campaign and it is our duty to keep on fighting for what should be routine – a free Internet service.
We are pleased that negotiations with LOCOG are still ongoing and we are confident that a reasonable solution will be found.
HONOURING OUR COLLEAGUES Together with AIPS Worldwide Gold Partner, HONAV (Beijing) we will honour those who have covered 10 or more Olympic Games at a reception in London on August 2. This will be a gathering of journalists with an incredible wealth of Olympic knowledge – photographers and reporters who will no doubt have many interesting tales to tell. I look forward to celebrating our profession and to honouring our veteran colleagues.
OUR FUTURE Supported by the Azerbaijan Sports Ministry we will conduct the second edition of the AIPS Young Reporters' Programme during the FIFA Under-17 Women's World Cup in September/October. We are currently undertaking the selection process and 20 young journalists from around the world will join local reporters in Baku to gain precious knowledge from seasoned AIPS mentors and a group of sports experts, while learning how to report from a top level international event.
CORRUPTION Unfortunately match-fixing and corruption continue to cast a dark shadow on sport. Match-fixing can lead to the death of sport because the public and sports fans will no longer have confidence in the result and will stay away from the stadiums in droves. We are on the brink of the precipice. The media should remain at the forefront in the battle to stop our beloved sport from being so tainted that it risks oblivion.  A "Spring Revolution" is needed to sweep a radical cultural change through sport. First stop should be the leaders who have the most serious of responsibilities and who did not intervene when it was vital to avert disaster. 
By Gianni Merlo, AIPS President
Read Other Articles In Article (Archive)