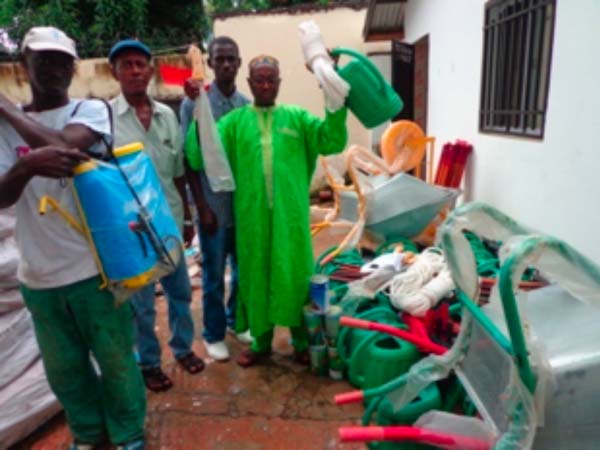 The Food and Agricultural Organization (FAO) yesterday presented horticultural equipment worth $45, 471 to five settlements across the country in an effort to improve production and productivity.
The tools included rakes, ropes, machetes, wheelbarrows, scales, watering cans and knapsack sprayers.
The beneficiaries were the Old Bakau/Cape Point Ward Development Communities, Give Hands to the Needy, Farato Bojang Kunda, Women's Initiative for Education and Empowerment (WIFE), Bansang Hospital and the Rural Development Organization of Farafenni Town.
This was the second donation following the initial inputs and tools procured under the project supplied to women's groups through the Women's Bureau under the Office of the Vice President.
The donation made by the Belgian government through FAO Gambia office, seeks to restore and reinforce the livelihood of vulnerable farming households affected by severe crop failure and soaring food prices, through provision of field crops, vegetable gardening and poultry inputs to the vulnerable communities.
The FAO assistant representative, Mariatou Njie, said FAO received funding from the Belgian Government in response to the 2012 crop failure.
She added that the project aimed to help promote community gardens to enable the production and the supply of fresh, nutritious vegetables which also improves poor people's economic access to food.
Over the years, she said, FAO has supported the production of improved vegetable varieties, improved access to water through rehabilitation and construction of wells and the installation of water irrigation structures.
It was also to ensure safety and security of women by installing perimeter fences around vegetable gardens, train producers in good horticultural practices, create a strong network of producers and marketers and reducing vulnerability to high food prices and the impact of shocks.
Receiving the items on behalf of the beneficiaries, the councillor of Old Bakau-Cape Point Ward, Abdoulie M. Jallow, thanked the donors for the gesture, and said the items would be used effectively to improve the gardens.
Read Other Articles In Article (Archive)