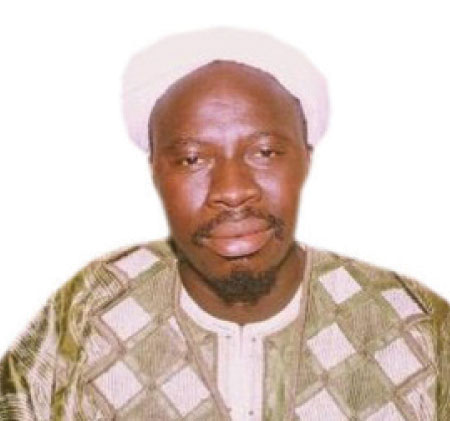 The family of renown Islamic scholar and imam Ba Kawsu Fofana has lamented what they said is the sudden disappearance into thin air of their much loved family head, after men in plain clothes reportedly came to effect an arrest on him Tuesday night.
Omar Fofana, brother to Ba Kawsu, told The Point in an interview that at the family residence in Sanchaba Sulay Jobe yesterday that, on Tuesday night between the hours of 9-11pm, officers of the National Intelligence Agency on board a double cabin pick-up vehicle visited the imam.
"Men in plainclothes came to the compound, while we were praying. They asked for Ba Kawsu and demanded to see him, while he was inside the mosque," he revealed.
According to Omar Fofana, after completing his prayers, the officers met him and were heard talking to him, and even laughing inside the mosque.
However, after a few minutes, they told him that we came to collect him (Ba Kawsu) for questioning at the NIA headquarters.
"Bakawsu responded by telling them that he was performing special night prayers for 30 days, and would not want to miss it; and, besides the day was Lailatul Kadr (Night of Power). He pleaded with the officers for them to allow him to complete his task, and go for the questioning after the Koriteh feast," Fofana narrated.
The officers, he said, insisted that they must go with Ba Kaswu and, after few minutes, Ba Kawsu accepted and asked them to allow him enter his room, after which he was nowhere to be seen.
Omar further told our reporter that a few minutes later, another team of NIA officers on board a tinted glass Pajero vehicle also arrived at the compound, demanding to see Ba Kawsu, announcing that they have a special message for him from the authorities.
"After waiting for sometime without seeing Ba Kawsu, the officers asked for me (Omar Fofana); then the wives of Ba Kawsu started to plead with them to leave me alone," he said, adding that he told the women not to plead with the officers as they were carrying out an assignment.
"I was then handcuffed and put into the double-cabin, but as we moved towards Bakoteh, they dropped me on the way. They warned me to desist from interfering when my brother is being arrested," Omar said.
Asked whether he has any contact with Ba Kawsu since his disappearance, Omar said, since then, he only communicated with him once, during which he (Ba Kawsu) promised to come out after finishing his special prayers after Koriteh.
"He (Ba Kawsu) told me that he has entrusted me with the responsibility of the family, until he comes back," Omar further stated.
Read Other Articles In Article (Archive)