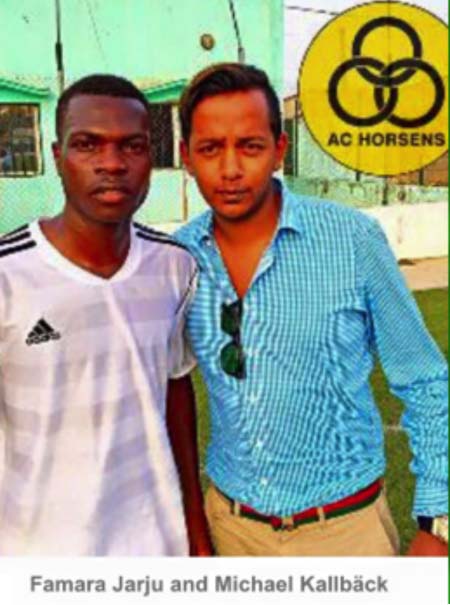 Real de Banjul Football Club has announced that an agreement has been reached with Danish club AC Horsens for the signing of Famara Jarju on loan.
The promising 19-year-old attacking midfielder, who can also play as a winger, will spend the 2015/16 season on loan at the Danish 1st Division side, who already have Bubacarr Sanneh in their books.
Famara, nicknamed "Kallon", is a technically gifted player blessed with speed and creativity. He was instrumental in Real's recent league campaign where he featured in all of the club's matches in both the CAF Champions League and domestic championships.
Famara, voted as the club's "Player of The Season", is pleased to be making the move to the Den Gule Fare and told www.realdebanjul.gm: "This is one of the greatest days in my life as I have been looking for this chance since I started playing football. I want to thank the President of the Club and his Executives for this chance as well as my teammates and coaches. I look forward to making the most of this loan and hopefully follow the footsteps of Buba."
The skillful winger and playmaker, who is one of the young brightest talents to have emerged from The Gambia growing up, has had trials with Belgian club R.S.C. Anderlecht, Tunisia's CS Sfaxien and most recently with Italian side U.S. Cremonese.
He has been consistent for Real de Banjul in the past seasons, guiding it to a second title in two years, in the 2014 season. He has represented the country at both U20 and U23 levels respectively.
Horsens coach Bo Henriksen says he is looking forward to working with Famara, who is a capable match winner: "We have seen the video of Famara and in the context of thorough intelligence from our good contacts which also helped us [in the scouting of] Bubacarr Sanneh, we have chosen to loan FamaraJarju, till next summer. We feel well equipped in relation to which player we are getting."
Henriksen, who believes Famara would strengthen his offensive department, added: "It is clear there will be a period of adaptation for Famara, but in that we have Bubacarr in the squad who can support him in the beginning. We will have him as a great asset in our offense like Bubacarr is in our defense. With the addition of Mikkel Jespersen and FamaraJarju, we get more offensive in our play with André Bjerregaard and Kjartan Finnbogason upfront."
Club President, William Abraham remarked: "We are happy to have another of our prospects transferred to Horsens who are a club that are working through the right way in Europe. I have no doubt that Famara will become a success in Denmark and Horsens in particular. We can only wish him well."
Michael Kallbäck, the man behind the move said: "I am happy that we finally moved the third one, of what I call the three musketeers. First, there was Buba who went to AC Horsens, then there where Bubacarr 'Steve' Trawally that went to China and now the last remaining of those three, Famara is going to Horsens. When I went to Gambia early 2013, I scouted these three players actually for the club I was working at the time, IK Brage in Sweden, and those three players were the once that stood out in the crowd, extraordinary talents."
"Now, 2.5 years later, Buba is doing huge success in Denmark and Steve is one of the most exciting players in the Chinese league, both players together worth millions and with a bright future. Now that we also managed to move Famara to AC Horsens in Denmark is a huge satisfaction for me personally, as I together with William Abraham and Modou Lamin Beyai have worked nearly 30 months on this case."
"I'm very excited about getting Famara to Denmark to join Buba, and I'm sure Buba will be important for the adaption to Danish lifestyle and way of playing in Denmark. Of course I'm also very happy about the fact that our official partner, Real de Banjul, continues to produce top talents for the European market, and that our exclusive partnership with the club is fruitful for all parts involved. I'm looking forward to my next scouting trip to Gambia, and already now, I have in mind who will be the next big export in Gambian football. But that's a different story."
Everyone at Real de Banjul wishes Famara well for the 2015/16 season, as he looks to begin his professional football career.
Source: Realdebanjul.gm
Read Other Articles In Article (Archive)