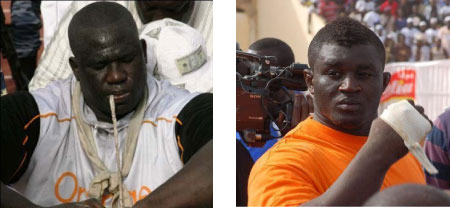 Senegal's state TVRTS last Wednesday hosted a talk show between Yahya Diop Yekini, Africa's champion in wrestling, and Bala Gaye, 2nd son of a veteran wrestler Double Less.
"I want to assure my fans that the most talked about bout between me and Bala - I pray and wish all go well and I will defeat him." Yekini said.
"The bout will not be an easy encounter. I have had 19 victories and a draw during my twenty years career but this encounter I will take it seriously because with two more contests, I will retire from the arena.
"I have no hatred against Bala; it is sport, our fans must argue or quarrel. After, it will be the end." I am a Muslim, I don't hate anybody."
Yekini added that whatever the result of the encounter, "I will shake hands with Bala, I believe in fair play."
"Wrestling is our breadwinning source," he noted, saying: "We should respect and love our job."
On the other hand, Bala, Yekini's opponent, said:"I can assure my fans come Sunday 22nd April, I will defeat Yekini.
"I am younger than him; I know how to defeat a fat man because I am more fit than him. I am training day and night and I respect my diet and my opponent.
"I want to assure the public that my bout with Yekini will last ten seconds and I will become victorious, as I am fully confident of my victory. During my career I have had 17 victories and two defeats. I believe in training and when the time comes on Sunday, Yekini will know who I am."
"I know him very well; I know how to deal with Yekini to defeat him. I am appealing to all our supporters to be calm and refrain from violence, I pray for peace and victory for this important bout."
Luc Nicola, organizer of the bout, in his remarks, said: "I cannot disclose the amount of the money paid to the wrestlers but I know they are happy."
Yekini made it clear whenever he contests wrestling, he would ask for above 100 million CFA, which is about sixty million dalasis.
The bout between Yekini and Bala will be held on Sunday 22 April at the Stade Demba Diop in Dakar of a capacity of 30,000 spectators.
Read Other Articles In Article (Archive)