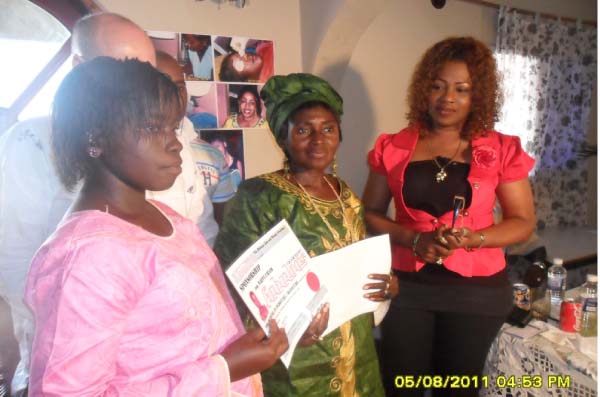 Fabulous Training Academy in Tranquil, Wulinkama junction in the Kombo North of the West Coast Region, on Sunday gave scholarships to six students to undergo training on various disciplines of human make-up, at the academy.
The students, who were selected after a preview interview and an assessment procedure openly conducted in the presence of parents, will study at the Fabulous Academy in the coming years. The selection initially brought together over one hundred students who applied for the scholarship, out of which the six students emerged as the lucky winners. These are Adama Kanteh, Awa Faal, Haddy Jatta, Naffie Cham, Fatou Cham and Mariama Cham, whose awards were backed up with certificates.
Speaking at a ceremony held at the academy grounds, Yusupha Sanyang, Deputy Mayor of the Kanifing Municipal Council, commended the executive directress of Fabulous Academy, Chi Zercher and her husband George Zercher, for choosing The Gambia.
"I am very impressed with Fabulous Academy for offering free education to young Gambians at no cost to their parents," he said, adding: "The money invested will not go in vein."
Mr Sanyang advised the newly sponsored students to make best use of the opportunity by making their books their friends so that they would not disappoint Mr and Mrs Zercher.
"You have to be more committed to your education and always get yourself ready. Education needs sacrifice if you want to succeed in life, and for The Gambia, we need capacity development to match with the other developing countries," he stated.
For her part, Mrs Zercher said that was the first time for her and her husband Mr Zercher to sponsor students at Fabulous Academy. "We established this institution to change the lives of the Gambian people, especially the youngsters and even non-Gambians," she said, adding that as young aspiring and promising future leaders, students must be proud of any profession they want to take up in life.
She urged the students and those who could not get the sponsorship to be role models in the society, especially to their younger brothers and sisters.
Mrs Zercher called on other Gambians in the country and outside to support their own brothers and sisters to have a brighter future that would be based on the development of the Gambia and the sub-region in particular.
She praised two of her former students who were employed by her institute because of what she said was their commitment and hard work during their stay at the academy as students.
Other speakers at the ceremony were the Deputy Governor, West Coast Region, Fatou T. Sanyang; Mr Ceesay from NTA and some teachers of the institute, who all commended Mr and Mrs Zercher for their foresight in helping Gambian students.
Read Other Articles In Article (Archive)