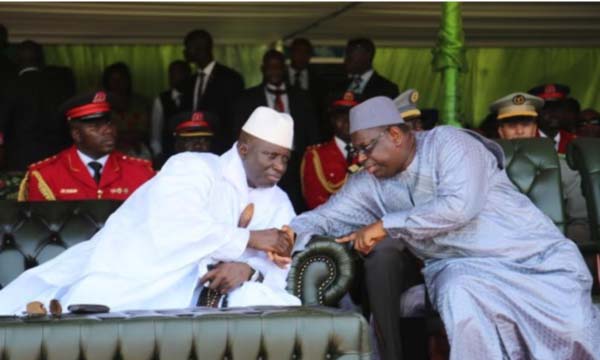 The presidents of The Gambia and Senegal have reiterated that there is a strong bond of unity and affinity between the two sister countries, saying they are one country divided by colonial boundaries.
The heads of state made these statements on Friday at the formal opening of the 20-year anniversary celebrations of the July 22nd Revolution by the Gambian leader held at the Independence Stadium in Bakau, attended by his Senegalese counterpart, President Macky Sall.
President Jammeh said Senegalese and Gambians are the same people, just as "a room and parlour."
"When Gambia has an occasion, Senegal should not wait for an invitation because it is their show as we are the same people," he said.
President Macky Sall, for his part, also reiterated that the two countries are related in blood.
He emphasised that it is because of the strong blood relations that exist between the two countries that he had to shelve some of his meetings in Dakar to attend the Banjul event.
"Today I was supposed to have several meetings in Dakar, but despite my heavy schedule, I said I must come to grace the occasion," he said.
He also said his presence is to congratulate President Jammeh on behalf of Senegal for commemorating 20 years of struggle for socio-economic development in The Gambia.
"The Gambia is on the right track for working hard to attain development," President Sall said.
Thanks for coming
Earlier on, President Jammeh hailed the presidents of Senegal, Mauritania and Guinea Bissau for attending his 20th anniversary celebration, despite their heavy and busy schedules.
"I thank God and thank them for coming to attend the celebration," he said.
"We have invited many dignitaries, but God made only those who have close ties with us respond to our invitation," President Jammeh said.
Read Other Articles In Article (Archive)