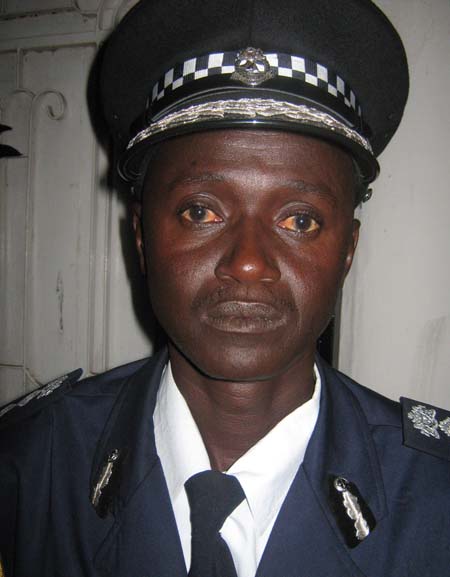 The former Inspector General of Police, Ensa Badjie, has denied financing any criminal operations before Justice Joseph Enwa Ikpala of the Special Criminal Court of the High Court in Banjul.
Ensa Badjie was continuing his testimony yesterday in the robbery trial involving him and Chief Superintendent of Prisons Ali Ceesay.
Ensa Badjie and Ali Ceesay were arraigned at the court after being indicted on different counts, including conspiracy to commit a felony, robbery with violence, receiving stolen property, aiding and abetting, robbery, conspiracy to commit misdemeanour, aiding prisoner to escape, official corruption, conspiracy to defeat justice and interference with witnesses, deceiving witnesses, offences relating to judicial proceeding, and using criminal charms, among others.
Continuing his testimony, Ensa Badjie told the court that when those suspects were arrested and taken to court, convicted and sentenced, he was then promoted to the rank of Commissioner.
"I have never ever aided or been involved in any criminal activities, and I have never received any stolen property from PW1 and others," Badjie told the court in his defence.
When asked by his defence counsel, B.S. Touray, whether he had financed any criminal operation, Badjie in reply said: "I have never ever financed any criminal operation in my life, and I have never facilitated any act of robbery by purchasing shopbreaking tools."
Badjie also told the court that he had never received any money as a bribe during his tenure as IGP, noting that he never betrayed the country.
He said he was accused of receiving D500, 000 from Soriba Condeh. "I have never ever aided the escape of any prisoner, and the escape of Soriba did not happened in my division," he added.
He further denied interfering with any witness to defeat the cause of justice, adding that when the accused persons were arrested, and the investigations completed, he authorised the prosecution under him to file the case against the accused persons.
"I was posted as Crime Management Coordinator (CMC), and when I was at that office, an investigation was mounted on the alleged crime against me, and the allegation was found to be false," Badjie further told the court.
"I was sent to Ethiopia for a border demarcation conference and, while I was away, the NIA re-investigated the matter, and again the allegation was found to be false," he continued.
Upon arrival from Ethiopia, Badjie added, "I was called to the then IGP Benedict Jammeh's office with Soriba Condeh and Tony Yahya Babu, in the presence of Commissioner Mamour Jobe, Commissioner Ousman Gibba, Lang Tombong Tamba and Burama Dibba, the then CMC. Badjie said that while at the conference, "PW3 Yahya Tony Babu denied seeing me with PW1."
Commissioner Mamour Jobe, Badjie further stated, then said the matter should now be concluded, because he personally investigated the mater and found nothing against him.
Badjie said that while he was posted to Brikama, Edward Sambou and FRI Jammeh came and met him in his office at Yundum, and they informed him that PW1 and PW3 escaped while on their way to Mile 2 and they urged him to help them in order to arrest these people.
Badjie said he contacted the checkpoints and he was on the ground with his men at the checkpoints, adding that he and his team arrested Soriba Condeh around Brikama Kitty at around 5 am.
He added that he personally handed over PW1 to the then Deputy Inspector General of Police, Modou Gaye, and Commissioner Edward Sambou.
Badjie denied being related to the second accused person, and said he is from the West Coast Region whereas the second accused, Ali Ceesay, is from somewhere in the south bank of the River Gambia, further stating that they are of different tribes, and that he only came to know Ali Ceesay in court.
Badjie said, on 2nd March 2010, he was arrested without being cautioned and, on 7th March 2010, he was taken to the NIA, where he was handcuffed at the back and put before a panel.
The case was adjourned till 18th April 2011.  
Read Other Articles In Article (Archive)