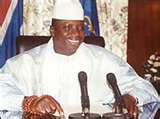 President Yahya Jammeh has told over 100 military officers from across Africa, Europe and America that the armed forces in any country are guarantors of sustainable development, stressing that one cannot talk of sustainable development if he/she does not have an efficient and loyal defense mechanism.
"Any country without armed forces, no matter what development you have achieved, know that this development cannot be sustainable and guaranteed. Why? Because it takes so many years to build a bridge, and it takes only a few seconds for a mad man to blow it up," Jammeh said while presiding over the opening ceremony yesterday of a four-day military conference of the Africa Endeavour final planning conference, being held at the Kairaba Beach Hotel.
Hosted by the Gambia government, the Africa Endeavour is a United States Africa command initiative, and aims at establishing command, control, and communication information system for African states.
The conference, which brought together military officers from Africa, Europe and the United States, is held on a quarterly basis with a view to mapping out strategies and plans to better prepare and enable African countries operate together in peacekeeping support operations, disaster management and counter terrorism.
According to President Jammeh, the African continent is the richest in terms of natural and human resources, but unfortunately the continent is in abject poverty, violence, diseases and backwardness.
He attributed Africa's backwardness to what he called bad leadership and corruption saying, "if Africa had good leaders, we would have known that it is better to dialogue than fight. I see no reason why a small political problem in Africa would lead to a major catastrophe and, unfortunately, whereas in other countries democracy means uniting the people towards rapid socio-economic development, in Africa democracy means hatred."
In his opinion, opposition parties do not see the ruling parties as part and parcel of the country, noting that this is one of the problems in Africa.
While commending the US Government and their allies for making Africa part of their development priorities, Jammeh expressed hope that the knowledge of participants will be used to stabilize Africa, and not to destabilize it.
"Maintaining peace and security rests on the armed forces. Africans should think twice why Africa with all its natural resources from uranium, diamond, to petroleum, is the poorest of the poor, while the rest of the mankind are moving forward," he stated.
The US Ambassador to the Gambia, Pamela Ann White, in her statement underscored the importance of the conference, saying that communication is an important component of security operations.
Ambassador White implored the participants to make best use of this high level conference, as it is a rare opportunity.
Speaking earlier, Brigadier General Roberts S. Farrell, Director C4 System of the United States Africa Command, said the goal of the conference is to develop communication tactics, techniques, and procedures that can be used in support of humanitarian, disaster relief and peacekeeping operations.
"It also provides the forum for nations to foster strategic partnerships that promote peace and security throughout Africa. This year's exercise will achieve an unprecedented level of interoperability and information sharing between African, coalition, and US Partners," Brigadier General Ferrell added.
Also speaking at the opening ceremony was the Chief of Defense Staff of the Gambia Armed Forces, Lt General Masanneh Kinteh, who noted that the significance of communication in all types of military operation cannot be overemphasized.
CDS Kinteh stated that the US continued to maintain solidarity with Africa throughout the continent's struggle for independence, saying the US has supported Africa during it numerous periods of violent conflict and political turmoil.
Read Other Articles In Article (Archive)