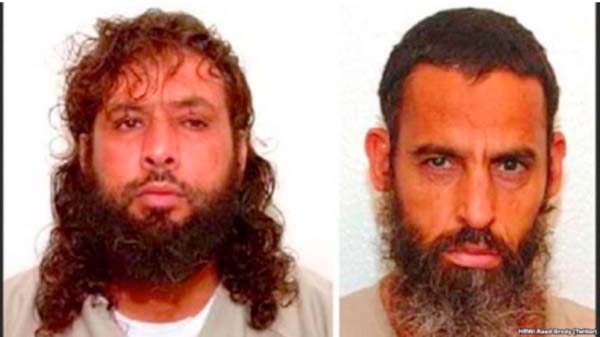 The United States Department of Defense announced in a statement on Tuesday that it has formally transferred Abdu Salam Salem Ghereby and Omar Khalif Mohammed Abu Baker Mahjour Umar from Guantanamo Bay to the government of Senegal.
In the statement, US Secretary of State John Kerry thanked Senegal for agreeing to host the two prisoners, saying they were of Libyan nationality.
The transfer of the two Libyans from Guantanamo had been approved by the government in 2009, according to the State Department.
According to the New York Times, the two were detained in Guantanamo without trial for 14 years, almost since opening the prison in January 2002 to hold suspects of the September 11, 2001 attacks.
Salem Abdu Salam Ghereby, 55 years, and Omar Khalif Mohammed Abu Baker Mahjour Umar, 44 years, had links with Al Qaeda and a Libyan group of Islamist fighters, the newspaper said.
They were both said to be members of the Libya Islamic Fighting Group, an organization that sought the ouster of former Libyan leader Muammar Gadhafi, and which had been designated a terrorist organization by the US since 2004.
Mahjour Umar had been held in Guantanamo Bay on suspicion of helping re-establish Al-Qaeda camps, following their destruction by US bombings in 1998, and he was identified as an explosives and weapons trainer, according to his leaked file.
Khalif, who had been cleared by a US government review board last year, was described in a profile issued by the Pentagon as having worked for a company owned by Osama bin Laden in Sudan, after he fled Libya in the 1990s. He is also blind in one eye, and has shrapnel in his leg and arm.
He later moved to Afghanistan, where he allegedly fought against the Northern Alliance in its war with the Taliban.
Both men were captured in Pakistan.
Read Other Articles In Article (Archive)