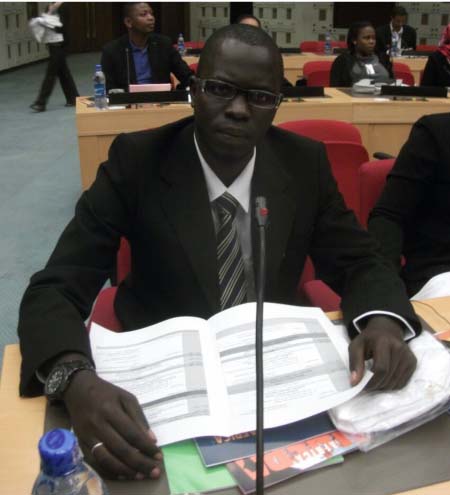 For the first time, the Kanifing Municipal Youth Committee (KMYC) is to stage a youth camp, which is scheduled to kick off on 11 September 2015. The camp, fully funded by the Kanifing Municipal Council, is expected to bring together about 150 young people from across the municipality and beyond, to discuss 'Pursuance of the Demographic Dividend and Skills Acquisition'.
The week-long camp, to be ended on 17 September, would be held at the School of the Deaf and Hard of Hearing, opposite the post office at Kairaba Avenue.
The maiden camp will be centered on developing young people, by creating more awareness on the human and demographic dividend and skills acquisition.It will also include culture and talent promotion.
Officials of KMYC said, during the forum, youth representatives will discuss issues underpinning the acceleration of youths, interact with the government and other key stakeholders in youth empowerment.
Babucarr Kebbeh, chairperson of the conference sub-committee of KMYC youth camp, said the estimated poverty rates, by age groups, indicate that the those aged less than 15 years have relatively high poverty rates.
"The demographic dividend of such magnitude can lift the potentials of hundreds of millions of people out of poverty and raise living standards and catapult economies forward," he said.
He explained that during the youth summer camp, participants will deliberate on youth and HIV and AIDS, drug use and trafficking, alcohol abuse and its role in impeding youth participation in the productive sector.
Towards the end of the camp, there will be an awards ceremony to recognise the efforts of deserving individuals and institutions in the development of young people.
The awardees will include: outstanding individuals in the development and empowerment of young people, the donor institutions of the year, outstanding constituency youth committee of the year, KMYC 2014 donors and supporters, and friends and partners of KMYC. They said the camp also seeks to cultivate an environment necessary to endear young people to their roots with a view to reinforcing self-esteem, pride and the psychological stability necessary for their lives, dreams and aspirations to become a reality.
Lamin Marong, chairperson of KMYC, said the camp will develop a strategy to direct the KMC's youth-related programmes.
The UNFPA state of the world population report 2014 has stated the need for developing countries like The Gambia, with large populations, to invest in its youth in order to realise potential economic gain through a 'demographic dividend'.
Demographic dividend is said to have occurred when a country's working population is larger than the dependents, including the younger ones.
"We think our country, The Gambia, has a role to play in making sure the population reaches the demographic dividend," Mr Marong said.
Read Other Articles In Article (Archive)