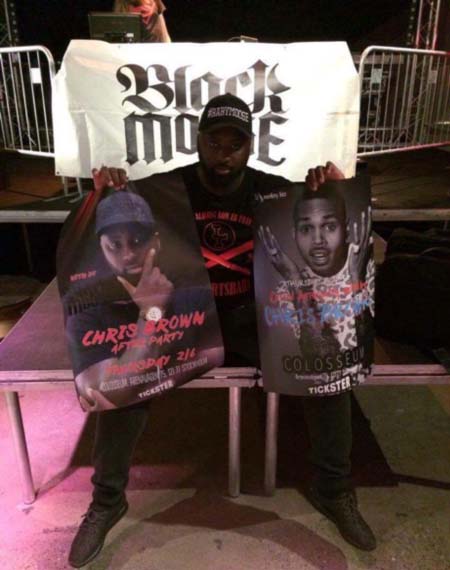 Musa Jallow, who goes by his popular name DJ Black Moose, is a former goalkeeper of the Gambian National U23 Olympic team, which was coached by Pa Faye in the 2006 qualifiers, with the likes of Ousman Koli, Demba Savage, Ibou Sawaneh to name few.

Musa is currently the hottest DJ based in Stockholm, the heart of Sweden.
He started his career at 15, playing soccer and doing music at the same time, but football was his first passion.
He went on to play professional football with clubs like Syrianska IF kerburan, Gideonsbergs IF, Västerås SK, IFK Fjärås, Hammarby, Tyresö, Brandbergen before he got injured at the latter stage of his career.
The injury, which left him sitting on the sidelines most of the time recovering, got him frustrated; and thus he went for his second hobby, and today he is one of the most booked urban DJs in Scandanavia.
He has worked with well-known Swedish artistes such as Lazee, Näääk & Nimo, Ken Ring, Abidaz, Kartellen, Medina and opened shows for international acts, like The Game, Ice Cube, Wiz Khalifa, 50 Cent, Young Jeezy, Mos Def, Talib Kweli and Bone Thugs N Harmony and Fat Joe.
In late 2012, Swedish rapper Lazee noticed Black Moose's talent and decided to team up and make him part of the Timeless Music crew.
In 2013, 2014 and 2015 Black Moose won Kingsize Magazine's award for DJ of the year, and that made him the only DJ in Sweden to have ever won the award three years in a row.
He started working at Sweden's biggest Hip-hop radio show, 'En Kärleksattack På Svensk HipHop, SR Metropol' together with well-known journalist Ametist.
The headphone company, SMS Audio, owned by American rapper 50 Cent noticed Black Moose's talent and hard work, and made him part of the camp, which was à great achievement in his career.
He is now an official SMS Audio ambassador. DJ Black Moose is the first ever DJ in the whole of Scandinavia to make it to the BET Hip Hop Award Swedencypher 2016.
As à Gambian Swedish, he's proud to raise the Gambian flag anywhere he goes.
Furthermore, he recently hosted Fat Joe and went on tour with him in Sweden, à tour that was off the hook.
He is on the move again, and these times in West Africa where The Gambia, Senegal will be his first stop with other top DJs at the end of the year.
He is looking forward to get it down with his beloved nation for the first time.
Beyond his music knowledge, work ethic, dedication and talent, one thing is for sure, Black Moose definitely knows how to get the party started
Read Other Articles In Article (Archive)