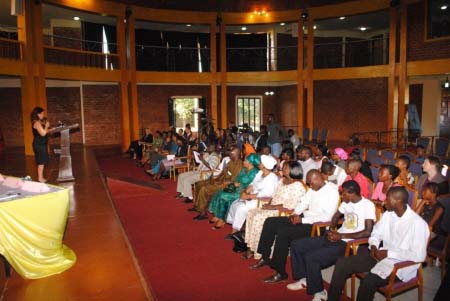 The European Union delegation to The Gambia on Monday celebrated the International Day for the Elimination of Violence against Women at a ceremony held at the Ebunjan Theatre in Kanifing.
Speaking on the occasion, EU Charge d' Affairs Agnes Guillaud said it is important to acknowledge that violence and abuse affect women from all kinds of background every day.
She said as many as seven in ten women around the world report having experienced physical violence at some point in their lifetime not to mention psychological violence.  
She also stated that violence knows no geographical, cultural, social, economic or educational boundary, adding that it is a phenomenon that affects all societies be it European or African.
The EU Charge d' Affairs noted that domestic violence takes many gruesome forms ranging from rape and sexual harassment to female genital mutilation and forced marriages.
Madam Guillaud said that often deep-rooted social and cultural attitudes and informal justice mechanisms mean that most victims suffer in silence with little or no recourse to justice or support.
She added that the education of both male and female must change gender stereotypes and attitudes and beliefs that condone violence.
According to her, The Gambia even though it is a small country is filled with exceptionally brave men and women who are advocates of women's rights and elimination of violence against women.
"When a husband can beat up his wife while enjoying complete impunity, when millions of women and girls are trafficked in modern day slavery, and when women's bodies are battleground and rape is used as a tactic of war, it is time for action," says Mrs Guillaud.
She said that in The Gambia they are therefore pleased to see the Women's Act in action and the domestic violence and sexual bill in preparation to address these matters.
In conclusion, she said the European Union, in partnership with the women, has made protection against gender-based violence a key feature of the EU's human rights strategy and they have cleared the way for greater cooperation between the EU and its development partners to ensure women's rights and violence against women remain at the top of the development agenda.
For his part, Lamin Nyabally, permanent secretary at the Office of the Vice President, said violence is something unacceptable and it has something to do with gender and development of women.
Gender equality is a cornerstone of development, he also said, arguing that the government has put in place an environment conducive for women to raise their voice and be empowered through such organs as the Women's Bureau, the legislative and national women's council, which are all geared towards tackling gender issues.
Mr Nyabally said they have policies such as the Women's Act 2010, which also gears towards promoting the rights of women.
They have the principle that "women will not die as a result of pregnancy; that is why there is free maternal services for women", he said, adding that their policy is one that allows couples to determine freely the number of children they want to have.
He also said instrument like CEDAW is something The Gambia has accepted, domesticated and is being implementing.
PS Nyabally said there is parity in the educational system, and also the number of women in Cabinet is increasing each day.
He said the 2013 health survey has also shown that The Gambia has gone a long way in terms of infant mortality rate, which shows improvement.
Read Other Articles In Article (Archive)