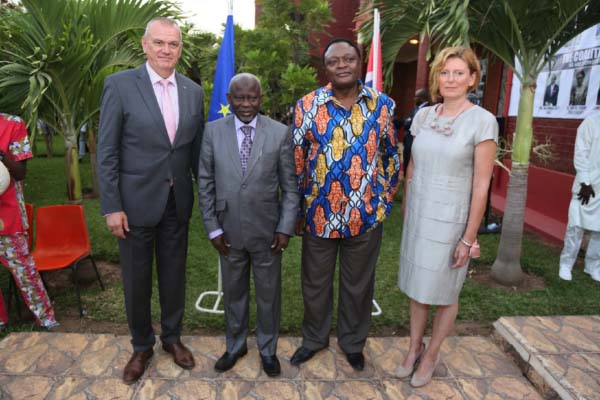 The Minister of Foreign Affairs, Mr Ousainou Darboe, has reiterated the European Union's commitment to The Gambia's Development agenda.

Mr Darboe made this remark on the occasion marking the EU's 60th anniversary on Tuesday 9 May 2017 at the Ebujan Theatre in Kanifing.
"You have been a true and reliable partner for the development of our country for many decades. In fact, you are our largest development partner." he said.
He congratulated the European Union for reaching the historic milestone of celebrating sixty years of European integration and unity at the forefront of peaceful global transformation and bringing much-needed development to the rest of the world.
"On this 60th anniversary of Europe day, allow me to heartily congratulate the European Union for this historic milestone of successful European integration and unity."
Mr Darboe commended them for the fruitful support and partnership they have established with The Gambia over the years.
"I must commend you for your friendship and partnership with The Gambia and Africa in general. You have been a true partner," he said.
He thanked them for their staunch commitment and relentless efforts towards the democratic transition and emergence of the New Gambia.
"Thank you for your commitment to the emergence of a New Gambia," he said.
The foreign Minister noted that the government is looking forward to a new era of development cooperation that will have a transformative impact on the daily lives of Gambians.
The signing of the 75 million Euro package of immediate support, and the 150 million Euro package that is being worked on, constitute "a vote of confidence in the New Gambia," he said.
Mr Darboe reiterated his government's commitment to running the affairs of The Gambia in ways that are built on transparency and accountability.
"We are also committed to utilizing the development support that we receive from our friends and partners judiciously and for the benefit of our people," he noted.
The EU Ambassador H.E, Attila Lajos, revealed that they are fully committed to be a privileged partner of The Gambia.
"I, and my team, will work to the best of our abilities for The Gambia. In addition to the €75 million package of immediate support signed last February, the EU Delegation is working on the €150 million package, which focuses on employment, agriculture, climate change and on enhancing the Gambian state's capacity to provide its citizens with services," Ambassador Lajos said.
He promised that the EU will continue to render Development assistance to The Gambia over the years to come.
Read Other Articles In Article (Archive)