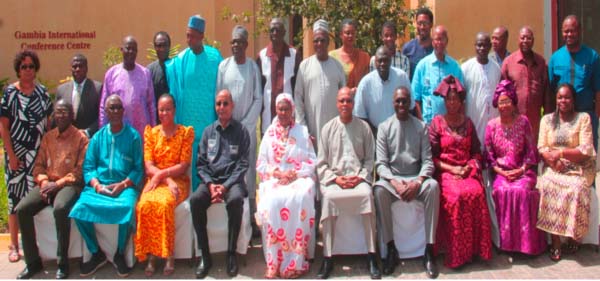 A 3-day retreat for Gambia's Cabinet Ministers has just ended at the Coral Hotel (formerly the Sheraton) in Brufut.

Under the theme "Collaborative Leadership and Dialogue", the retreat was organised in partnership with the United Nations Development Programme (UNDP) in The Gambia.
Among the objectives on the agenda was the development of effective and holistic strategies for inclusive processes that advance governance and identify key priorities for the government.
Speaking at the closing ceremony, the UNDP Country Rep, Ade Mamonyane Lekoetje, said the last presidential election was critical.
She recalled a meeting held at his office on the eve of the election where Dr Isatou Touray announced that if the Coalition 2016 lost the election they would be thrown in jail or killed hence they would have to flee into exile.
Madam Lekoetje stated that during the political impasse, Gambians "demonstrated the utmost patience and maturity that made you, and The Gambia, a mirror of hope and pride of Africa".
"My hope from this retreat is that you will draw an inner strength of unity that brought you together as a Coalition to end 22 years of adversity and achieve what you promised The Gambia, bringing real positive change that will bring hope, reconciliation, cohesion, and justice for human rights and sustainable development," she said.
The United Nations Special envoy for West Africa, Dr Muhammed Ibn Chambas, said that during the three-day retreat, a lot of lessons and experience have been shared.
"I have been particularly impressed by the enthusiasm and resolve demonstrated throughout this exercise. I wish to urge you to continue in building discussion and friendly, single-mindedness in your commitment to serve the nation," he added.
The Minister of Women's Affairs, overseeing the Office of the Vice President, Fatoumatta Jallow-Tambajang, delivered the closing remarks on behalf of President Adama Barrow, saying the Gambian people have decided. She added that "President Adama Barrow is now the father of the nation "not the father of the Coalition 2016 anymore".
"I stand here on behalf of President Adama Barrow to renew our commitment to the Gambian people and we took it as a responsibility to facilitate the harmonization of our thinking and priorities that we have to implement together with other stakeholders."
Madam Tambajang added that they are committed to the rule by the people by encouragement, civil engagement and they want to bring everybody on board in thinking, acting and succeeding in the commitment they have made.
Read Other Articles In Article (Archive)