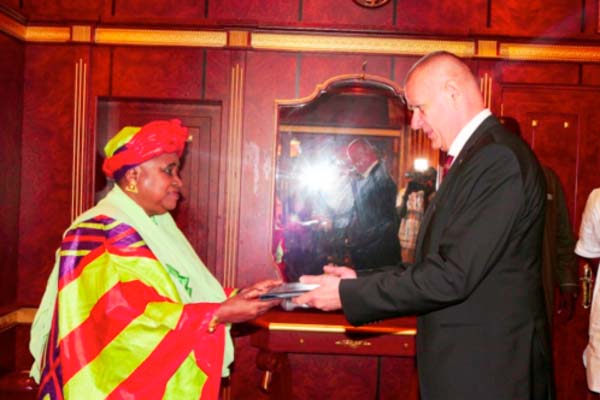 The European Union Ambassador to The Gambia Tuesday commenced a three-day nationwide tour upcountry to visit EU-funded projects, and held discussions with beneficiary farmers and partner NGOs on the state of project implementation.
Ambassador Attila Lajos visited Gambia Government European Commission Global Climate Change Alliance (GCCA) projects under the National Environment Agency dubbed Climate Change Environmental Adaptation Resilience Project (CLEAR).
CLEAR offers a holistic and sustainable agro-ecological approach to addressing over exploitation of sand which causes excessive degradation of uplands and lowland ecologies and by extension eroding the natural sedimentation of sand deposits on gullies and roads, which increases food insecurity, poverty and environmental degradation.
Ambassador Attila Lajos and delegation also visited Toroba Baobab Youth Association for Development Press Brick making and the Njawara Youths Fish project.
The EU diplomat expressed satisfaction with the high rate of project implementation by Njawara Agricultural Training Centre (NATC), as well as the commitment and dedication of youths.
He praised the regional authority for their collaboration and support to the execution of the EU-sponsored projects to enhance national development.
The ambassador also had a brief stop at the Peace Corps Master Farmer garden in Toroba.
Governor Lamin Queen Jammeh applauded EU's continued support to environmental protection and promotion to alleviate poverty and improve lives and livelihood.
He said the support to the youths under the grant would contribute immensely to the acquisition of life skills in the area of fishing and press brickmaking.
Mama Manneh, executive director of NATC, applauded the EU for their invaluable support and collaboration in building the capacity of youths and women on climate resilience.
He used the moment to call on the EU to support in building and strengthening the capacity of the youths through involvement and engagement on sustainable development.
Momodou Loum, Peace Master Farmer and Momodou A. Bah, President of Toroba Baobab Youth Association for Development, both thanked NATC and the EU for building the capacity of the youths on climate change and resilience building and energy efficiency, as well as contribute to rural-urban migration.
The diplomat was accompanied by officials of the NEA and the National Authorization Support Unit at the Ministry of Finance
The project aims to discourage indiscriminate sand mining, citing youth participation in press brickmaking, fishing and aquaculture in NBR.
Read Other Articles In Article (Archive)