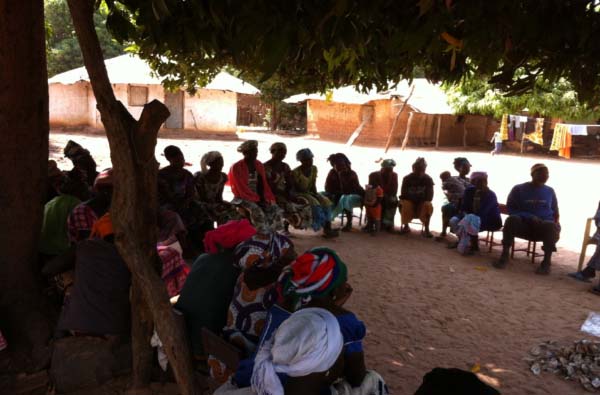 Settlement Committees from the communities of Tintinba, Foni Dumbuto, Berefet, Kasange and Bintang, all districts in Foni recently held meetings on creating new three additional community wildlife conservation areas within their districts.
The programme was organized by DPWM with support from the Sustainable Land Management (SLMP) project.
The Biodiversity Wildlife Act , 2003 states that before an area is declared "a protected area" by the Minister of Environment,a settlement committee comprisingthe Attorney General (committee chairperson), Regional Governor, District Seyfo, member of an Area Council andthe Village Head or their delegated representatives should be formed.
The Department of Parks and Wildlife Management, through the Sustainable Land Management Project (SLMP), is currently creating three (3) additional new community wildlife conservation areas added to ten (10) community wildlife conservation areas designated throughout the country.
These reserves would be managed by communities themselves with technical support of the department of parks and wildlife management; aimed at promoting conservation techniques geared toward sustainable land management and livelihood improvement.
Speaking at various meetings held in the communities of Berefet, Tintiba and Bintang all in the Foni districts of the West Coast Region, Ajaratou Sifaye Hydara, governor of West Coast Region advised the villagers to desist from land disputes and work toward development of their various communities and the nation as a whole.
According to her, the role of the committee is to ensure that the land set aside by the communities for community protection has no individual claimed property rights, before writing the approval letter to the Director of Parks and Wildlife Management, andthat the area is cleared of all other allocated uses; hence could be designated as Community Protected Area.
Abdoulie Sawo, field coordinator of the programme, said the principal objective of the training activity was to provide alternative livelihood to the local people, with a view to ensuring sustainable biodiversity conservation.
He noted that his directorate of the Department of Parks and Wildlife Management has solicited the Regional Governor's office's strong commitment to work with the local authorities and structures, from communities within the protected areas for effective management of the bio-diversity.
Ebrima Jallow, a representative of the ministry of Justice in Banjul, spoke at length on the importance of the meetings, adding that creating a community wildlife conservation area has legal steps to follow, and one of the key things was to ensure that the proposed protected area does not belong to anybody once gazetted.
Read Other Articles In Article (Archive)