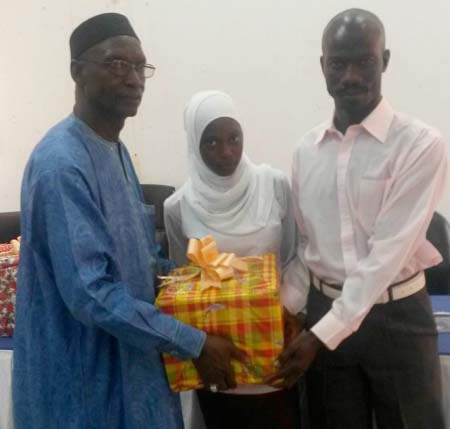 A three-year project funded by the European Union (EU) with five other international partners in The Gambia has phased out this year, 2017.

The project dubbed "Young people on the global stage: their education and influence" is a three-year creative curriculum development project for senior secondary schools.
The other co-funders of the project are TIDE-Global Learning, UK University of Exeter, FERE-CECA, Escuelas Catolicas in Spain, A Rocha in Kenya, and The Association of Non-Governmental Organisations (TANGO).
The five schools that benefited in the project were on Monday presented with leaning materials during a presentation ceremony held at TANGO conference hall.
The beneficiary schools are Muslim High, Kotu Senior, 22nd July Academy, Nusrat Senior, and Gambia Senior.
Speaking at the handing over ceremony, executive director of TANGO, Ousman Yabo, said the achievements of the project was possible through collaborative work with other countries through knowledge sharing and learning from one another.
The project was designed to enable young people and teachers to increase their knowledge of development issues, understand how they impact on developing countries and to make them aware of international efforts to address such issues.
"Young people everywhere are living in a fast-changing world with many social and environmental challenges," Mr Yabo said, adding that the material handed over to the schools were meant for the teachers to support their work on some key issues such as sustainable development, poverty and wealth, food and hunger.
The TANGO director commended the Ministry of Basic and Secondary Education (MoBSE) for its "timely support" during the implementation of the project.
Tabu Njie-Sarr, project coordinator who is also the programme officer at TANGO, said it was gratifying for her to work with both the teachers and students during the project implementation, adding it is their collaboration that led to the success in the implementation.
"Please continue with the commitment that we have seen in you during the project implementation; re-double your efforts in all your endeavours," she advised.
Muhammed Jobarteh, a teacher at Kotu Senior Secondary School, in his vote of thanks, commended the donors for the initiative and the support.
Senior cluster monitor, Alhagie Jallow, acknowledged the support of MoBSE while commending TANGO and all other implementing partners.
Read Other Articles In Article (Archive)