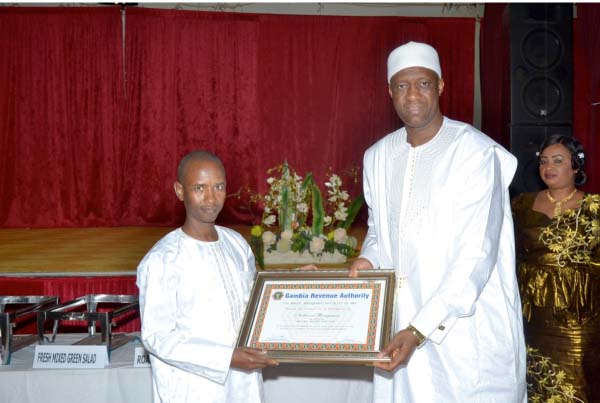 Gambia Revenue Authority (GRA) last Friday held its 9th Staff Award Night at a hotel in Kololi where 10 staffs were awarded with certificates and cash prices for their hard work, commitment, dedication and sacrifices to their work.

The cash prizes range from D5,000 to D20,000.
GRA Commissioner General Yankuba Darboe said the year 2016 also marked the 10th anniversary of GRA under its present structure as revenue authority.
"Therefore, it is gratifying to note that within a decade of operation as a unified revenue administration body, the Authority is able to substantially grow its revenues from D3.324 billion in 2007 to D7.895 billion in 2016, which translates to 138 per cent nominal growth over the period and 13.8 per cent average annual revenue growth," he said.
"The Authority achieved the revenue targets set by the government in four of the last five years from 2012 to 2016 despite the challenging economic environment in the country."
"Last year, 2016, the Authority achieved 94 per cent of its revenue target despite so many daunting challenges which included uncollected public enterprise tax debts included in the target, and the negative impacts of the government interferences which resulted into low fuel receipts, border impasse and high business closures."
Mr Darboe said besides revenue performance, the GRA has registered a lot of achievements in other fronts during the year.
"These achievements included the reconstitution of GRA governance structures and committees, modernisation of human resource tools, development of GRA operational plan, review and approval of staff service rule, development of GRA loan policy and procedures, and review and validation of departmental mandates," he said.
The achievements also included the review of the domestic tax revenue laws, development of training policy and strategy and engagement of more commercial banks for tax payments as well as rollout of GAMTAXNET to more tax offices.
"These accomplishments could not have been realised without the hard work, dedication and team work of every staff of the Authority and the GRA board," GRA Commissioner General said.
Read Other Articles In Article (Archive)