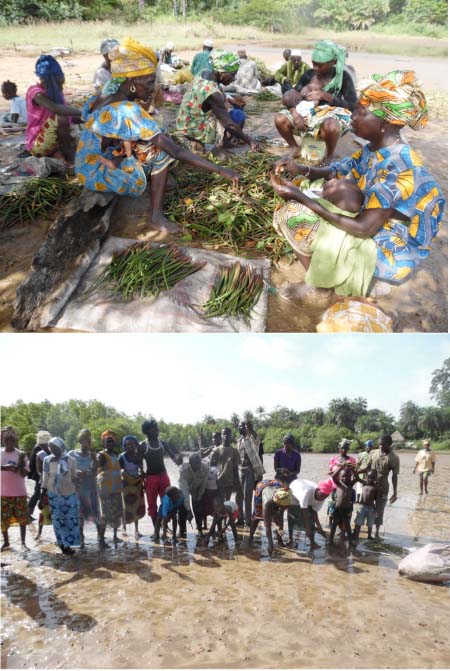 Hello and welcome to this edition of your weekly Environment Column that brings environment and environment-related issues to the limelight.
Today we talk about Sahel Wetland Concern efforts in mangrove restoration and rehabilitation for climate change adaptation along the Bintang Bolong Creek.
Bintang Bolong is extremely vulnerable to climate change, particularly to increase in salt intrusion due to mangrove die back.
Sahel Wetland Concern had come with strategies to restore and rehabilitate depleted mangrove swamps along the Bintang Bolong Creek, with support from UNDP/GEF Small Grants Programme through Gambia Protected Area Network (GAMPAN) under the Department of Parks and Wildlife Management (DPWM) to transplant 500 bags of mangroves propagules, as mitigating efforts to adapt to climate change and other environmentally land-degraded area in ten communities along the banks of the creek, which divides Foni and Kiang.
Mangrove restoration and rehabilitation had been designed, more as a multi-functional approach to alleviate poverty and diversify livelihoods.
Many plantations are both species-rich and managed under several land-use arrangements, with communities sitting around the periphery of Bintang Bolong in Foni and Kiang West.
FaKebba Kinteh, project manager, said currently Sahel Wetlands Concern (SWC) embarked on massive mangrove planting in the peripheral communities of Sintet, Kan Manka, Kassange, Kalagi, Jarrol, Bondali all in Foni and the communities of Jifarong, Jattaba and Sanden in Kiang respectively, with the support from UNDP/GEF Small Grant Programme providing the strategic support.
He said Bintang Bolong had a lot of aquatic species which attracts tourists, and some of these species such as the sea cow are disappearing due to lack of mangrove along the creek in Bintang, thus reducing the economic and ecological benefits for the peripheral communities along the bolong.
According to him, SWC is currently implementing a UNDP/GEF Small Grant Project that had helped in the establishment of a Bio-Climate Education Center within a wildlife sanctuary in Dumbuto village, Kiang West district, for the first-time in The Gambia.
He added that the project had provided a borehole and nursery to provide the required number of seedlings for replanting of degraded dry-land, while mangrove propagules are collected and planted in the Bintang Bolong estuary.
Sana Camara, Bio-Climate Education Center programme coordinator, revealed that Sahel Wetland Concern is a non-profit, non-political organisation initiated in 2007 and legally registered as entity with an individual membership of ten professional conservationists, seven women groups and eight school-based bio-scout clubs totaling more than 200 members.
He said the purpose of mangrove planting is to promote sustainable and effective community participation in biodiversity conservation, sustainable land management and building resilience to climate change for livelihood improvement.
The organisation had a strong leadership with enormous experience in biodiversity conservation, ecological research, protected area management, sustainable community development, conflict management, environmental education and public awareness among others, she stated.
Modou Lamin Sambou, a member of forest committee, added that restoring mangrove die back will help to improve the quality of fish stock, and increase rice yields for food security.
He said plans are in place to engage in agro-forestry for environmental sustainability for socio-economic development of the communities.
Alhagie Landing Jarju, a representative from the Village Development Committee (VDC), expressed appreciation for the initiative, adding that it would mitigate the effects of climate change.
He noted that climate change causes sedimentation resulting in gully erosion and other forms of land degradation.
"I felt elated about the initiative taken by SWC by being involved in environmental conservation, and whatever is taking place in Dumbuto shall benefit the community of Kan Manka," he said.
Ba Landing Bajinka, alkalo of Kan Manka, spoke at length on the importance of mangroves, adding that they serve as a carbon sink, spawning area for fish and other water-related species.
"We are grateful about the mangrove restoration initiative by Sahel Wetlands Concern," said the alkalo of Kan Manka.
He said when mangrove die back occurs it causes salt intrusion into rice fields, which affects rice productivity.
Alh. Ebrima S. Beyai, alkalo of Kassange village, stressed the importance of the exercise, adding that if mangroves are planted they serve as a habitat for many aquatic species, and improve the fisheries stock for livelihood improvement for communities sitting along the periphery of the creek.
"We are interdependent with nature, and it is important that we protect each other's interest by protecting and conserving the environment for a sustainable relationship," he emphasised.
Abdou Gaye, the proprietor of Abca's Creek Lodge, said currently there are over 550 birds' species in The Gambia, and most of these species are found in mangrove dense areas.
He added that The Gambia is a tourist destination with a beautiful environment, which attracts tourists, generates income for the government, and creates job opportunities, among others.
He said planting mangroves would improve the livelihood of local communities.
Your can please send in contributions, suggestions and comments through these contacts: (+220) 6361340 or Email: asallah6@yahoo.com
Read Other Articles In Article (Archive)