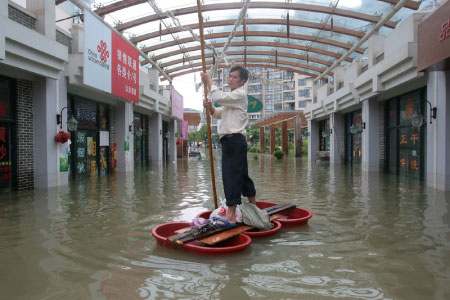 Hello and a warm welcome to yet another edition of the environment, your weekly column that brings environmental issues to the lime light.
In our today's edition we look at the possibilities of mitigating, preventing and mitigating potential disaster risks thus promote the advancement of food security as a result of climate change in The Gambia; and FAO intervention in responding, mitigating and preventing potential manmade disaster from striking.
For the past few weeks, FAO has gone at community level across all regions of The Gambia to capacities local farmers on disaster risk reduction and adaptation to climate change for them to understand risks caused by anthropogenic activities and put up plans to combat disaster to reduce risk associated to food insecurity.
Essa Khan, disaster risk reduction consultant for FAO, said in one of the regions that it could be recalled that Gambia government represented by ministry of agriculture signed a technical cooperation programmed facility (TCP) with FAO in response to the 2011 crop failure and 2012 severe weather condition in The Gambia.
This TCP facility enables FAO to provide emergency assistance to households in the forms of seeds and fertilizers in order to restore their productive capacity. However, given the repeated phenomena of successive droughts and floods such emergency assistance are important and relevant but there sustainability in the face of environmental risk factors cannot be guaranteed. 
To Essa, these risks factors includes among others soil erosion, salt intrusion, land degradation, potential sea level rise, low soil nutrient level, hence the need to change the way we respond to crisis in the wake of the aforementioned challenges.
It is rightly for this reason that the TCP facility provides capacity building support in the area of disaster risk reduction as an important requirement for bridging the transfer from re-active disaster management to more pro-active risk reduction strategies and measure in agriculture and natural resources sectors.
The ultimate objective is to build resilience to hazards, a process that cannot be built over night and has to start creating awareness which would subsequently lead to action. It is a transformative process in the evolution of disaster management and a paradigm shift towards addressing environmental drivers of risks to food security and livelihood in general.
FAO assistant representative, Mariatou Faal-Njie said climate change is a treat to food security.
While underscoring the importance of building the capacity of farmers, Mariatou said climate change are pertinent issues that needs clear and sound ideas to adaptation.
According to her, these communities are referred to as disaster front and as such, any intervention should primarily focus on building and enhancing their coping capacities through disaster risk reduction in order for them to absorb and withstand the negative impacts of climate change on their lives and livelihoods and bounce back sooner than later.
The training of farmers, she added, was subsequently followed with an E-learning on planning for Community-Based Disaster Risk Reduction and Adaptation to Climate Change from the 30th January to 2nd February 2013.
She stated that the focus of all these trainings is to ensure that they build the capacity of communities and targeting vulnerable households and people which are fundamental to addressing their low resilience to hazards such as drought and floods.
Ousman Jammeh, regional agriculture director for West Coast Region said that climate change is very linked to agriculture and when it changes, it affects rain patterns and rains significantly reduce leading to droughts, floods leading to food insecurity and farming communities and the larger communities suffers which aggravate poverty on the farming communities.
In his views, it is important for agriculture to strengthen the early warning system, plan on time, put mitigate devices to reduce risk, development of early matured varieties and deep flooded rice varieties to be further improve to support farmers changing farming system to adapt to the system.
Mr. Sering Modou Joof, executive director of the National Disaster Management Agency, said the government of the Gambia is quite impressed with the FAO intervention not only in capacitating farmers on disaster risk reduction and climate change issues but other aspects as well.
According to him, the government is promoting and empowering communities to identify risks hazards to ensure plans ahead to prevent mitigate and minimize disaster strikes. 
He noted that it is high time for communities to take charge of responsibilities as resources are scare and available resources must be utilized effectively.
Alimou Jallow, cadet planner under the Department of Agriculture defined disaster risk reduction as the concept and practice of reducing disaster risks through systematic efforts to analyze and reduce the causal factors of disasters.
He observed that climate change is a long-term shift in weather conditions identified by changes in temperature, precipitation, winds, and other indicators.
Agriculture in general and food security in particular is a climate sensitive activity strongly affected by climate change. 
Read Other Articles In Article (Archive)