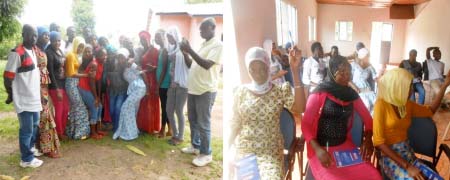 Amadou Tambedou, child and youth officer of Saamasang Federation, has said entrepreneurship can solve the unemployment problem that young people are faced with.

"It is an area that the government and other institutions need to focus on as the solution to youth unemployment," he said in an interview with our reporter after the opening of a five-day entrepreneurship training. It was attended by 25 young people in Brikama from August 4 to 8, 2016.
The training was organised by Saamasang Federation, an affiliate of ChildFund International-The Gambia and was conducted by the National Enterprise Development Initiative (NEDI), an enterprise arm of the Ministry of Youth and Sports.
The training was part of the federation's three-year action plan to support and empower youth, children and infants.
Mr Tambedou further said neither the government nor the private sector can employ everybody.
"But entrepreneurship gives the young people the opportunity or the enabling environment to create employment so they can move from being job seekers to job creators," he said.
"We have to give attention to entrepreneurship because I fully believe that if we are able to develop that area, we will be able to address the issue of youth unemployment in the country to some extent," he added.
Tambedou said Saamasang Federation has trained more than 150 young people on entrepreneurship and some of the beneficiaries already have success stories.
"The federation has changed the lives of many young people in West Coast Region," he said, adding that after the training, they normally give startup capital to the trainees who come up with business plans, through the federation's Youth Economic Empowerment Scheme.
"We do not want to train them and let them go back on the streets unemployed, this is why we will also support them in developing business plan," he said.
He challenged the young people to shift their attention from office job to entrepreneurship and small-scale enterprises, saying the richest people in the world are entrepreneurs, not official workers.
Saamasang Federation, a community-based association, works on child and youth protection and development and it has been in existence for more than two decades.
Mustapha Badjie, programme manager at NEDI, said entrepreneurship is the only way a country can develop and move forward; it is vital in addressing unemployment problems.
He said as a tax-based country, The Gambia derives her incomes from entrepreneurs because they contribute more to the economic development of any country.
"NEDI and other partners working towards the development of entrepreneurship have to promote it so that young people can be involved and create enterprises for themselves and others," said Mr Badjie, who was also the lead trainer at the five-day forum.
Read Other Articles In Article (Archive)