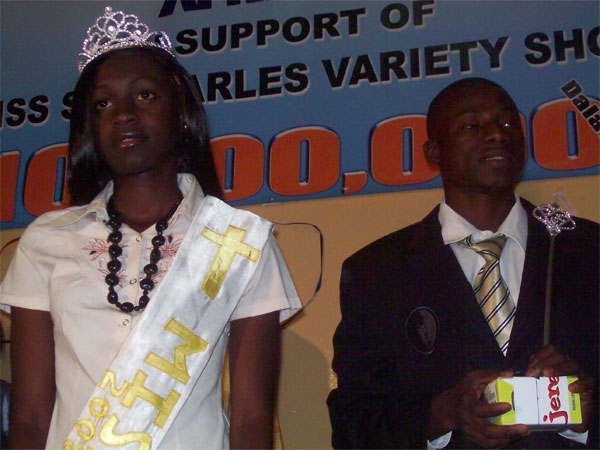 The St. Charles Catholic Church at Fajikunda named their Mr. and Miss of their church. This is the first of its kind in the country although Fr. Francis Eyo had earlier on organised it at Brikama when he was there. This he said followed the government's organising Miss Black USA followed by lots of other organizations' organising a similar thing. The Mr. and Miss St. Charles competition geared towards the development of the youth points out the good in all the participants. In the competition no one is a looser because every body is equal before God. The participants were drawn from the different church groups; Charismatic, Youth group, Senior and Junior Choirs. They all looked elegant and proud to show their talents and spoke as if they were all from the University of The Gambia. Let us see what happened in all as we see a boy and girl emerge Mr. and Miss of St. Charles.
Eustace Cassell, the Parish Pastoral Chairman in his declaration of the programme open, said "We don't have a room full of people but we appreciate those present. We are motivating them to become models. At the Diocesan Assembly we promised the Church that St. Charles Lwanga would be the model of the churches in The Gambia. Let us support our youth, go and tell those who are not here, tell them what is here today."
Africell, their sole sponsor represented by Mr. Kutobo the Assistant Customer Care Manager of Africell, said "You are the life blood of Africell. " He reiterated that his company has changed the lives of many. "We are the first in everything. WE are the first to give Million, a car, and we brought easy communication to your doorsteps, making it simple and cheap. SIM Card was 500 Dalasis but we brought it down to nothing and queuing for SIM stopped drastically, everyone is a winner with Africell. There are more in the offing.
Fr. Francis Eyo MSP says, "This is a special night for all of us. If people knew what it is all about they would run to come and be part of it. People only know that Christians go to church on Sundays and Muslims go to Mosque on Fridays.  But this has a social element, we relax, interact and show our talents. Our patron saint preferred to die for their faith. We understand youth problems, and we want them to become good models, one day at a time.
The competition was based on speaking and expressing themselves, dressing to church and dressing to go to work. At the end lots of questions were asked. Those on the floor say they were cheap questions.
Therese Njie was crowned Miss St. Charles with 1366 points and Michael Mendy named Mr. St. Charles with 1308 points. The night continued with music and dance.
The programme was organised by the St. Charles Lectors in collaboration with their parish priest.
The judges included Mrs. Emily Gomez, Mrs. Martin Ndure, Mrs. Anna Cassell and Austin Kanjia, from St. Therese's parish.
Read Other Articles In Article (Archive)