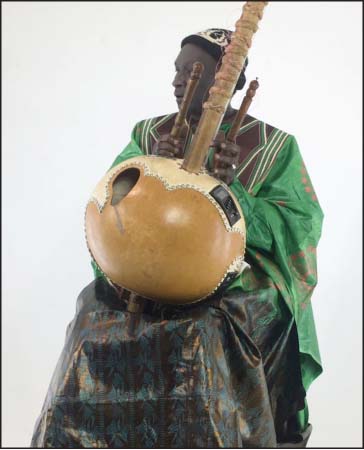 After months of busy studio work, veteran afromanding sensation Tatadindin Jobarteh and his Salam Band are ready to make headlines with the launch of their new album titled Nka Na Kele (No More Violence war).

Presented by Nyancho Entertainment in collaboration with Sateba Music and Arts, the album launch is slated for December 7th at Penchami Hall, Paradise Suites Hotel.
The new album is filled with a diverse collection of songs, as it advocates for non violence in the country, thus promoting unity and togetherness. It also takes listeners through a musical enlightenment, career growth and educative vibes.
At a recent press briefing, Ebrima Jobarteh, as widely known by his stage sobriquet- Tatadindin Jobarteh spoke highly of this new album, describing it as one of his best creative masterpiece.
The 17 album, he said, is a masterpiece that every music fan would appreciate looking at the angle and educating message contained in it.
"The title of the album -Nka Na Kele says everything as looking at the present political terrain of the country. The album also talks about our religious indifferences and even in our local settings. It also has an educative dimension as it reminds people that politics comes and go but our relationship is here to stay forever".
Widely referred to as Gambia's Jimi Hendrix of Kora, Tatadindin continues to make waves on the country's music landscape, thus contributing significantly to the country's music scene.
It could be recalled that Tatadindin dropped another masterpiece album last year. But he sounded optimistic that this new album is another piece that fans would really appreciate and endorse.
He disclosed that has established a foundation and that part of the proceeds from the album launch will go towards empowering this disable foundation.
"After the album launch, I want to embark on a nationwide tour to better promote the album. It is been a while I did not embark on a nationwide tour, so I think it is important to do a tour to better promote the piece. In summer I want to embark on summer tour internationally".
One of the songs in the album, he said, is dedicated to the Truth, Reconciliation and Reparations Commission.
"The reason for that song is that TRRC is a new thing in The Gambia and for that I thought it wise to dedicate a song and to promote reconciliation and unity".
The afromanding star called on all to be part of the history in the making event and support a worthy cause. One of supporting acts includes Cess Ngum.
Read Other Articles In Article (Archive)