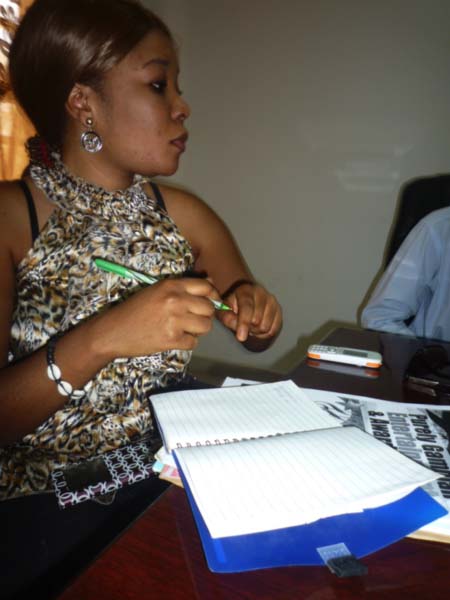 Gambia Entertainment Awards Night will be onstage to award outstanding Gambian artistes, producers and radio show hosts in 2014 on March 28, 2015 at Pechamii Hall in Paradise Suites Hotel.
It is organized by Biddy's Promotion in collaboration with the Gambia Music Union and The Gambia Collecting Society.
Kalilu Banja, secretary general Gambia Music Union, said the awards are meant to award outstanding artistes who were doing extremely well in 2014.
"We want the public to understand our own Gambian artistes' products and support them," he said.
Ida Bidwell, chief executive officer Biddy's Promotion, said the awards are geared toward showcasing Gambian talents who did extremely well in 2014.
"Let's reward them, show them love because this is what they choose to do, so that they can have more zeal to push their career forward," she said.
According to her, the awards ceremony captured some stakeholders in the industry and will be through online voting on www.themogulentertainments.com and a voting through a GSM operator.
She noted that panel of judges will be there on the awards night to be scrutinizing the works of the various nominees.
Dr. Oliver Mboge, president Gambia Music Union, said the awards are meant to build the foundation of the Gambia music industry.
"Our artistes are striving very hard to make a living with their works; so coming up with this will boost their morale in pushing hard," he said.
He urged Gambians to focus on the creative industry, as it is a source of employment for many people in world. He said the panel of judges will scrutinize the nominees' works in terms of lyrics line and live performance for international audiences. Awards categories are 15. See the full list of nominees below….
ARTIST OF THE YEAR 2014: Egalitarian, ST, Royal Messenger, Killa Ace, Gee and Jali Madi
BEST FEMALE ARTISTE: Diihaa, CessNgum, Amie Dibba, Nancy Nanz, JaliNenehSuso and SonaJobarteh
BEST MALE ARTISTE: ST, T Smallz,Silky Criss, Benjahmin, BaiBabu, MLC, MandingMorry, Killa Ace, ENC, Mighty Joe, Jali Madi Nova and MLK
BEST MUSIC VIDEO: Red Card by Silky Criss, Bul D Joy by Mighy Joe, Swag by Vypa, You Are My Life by AbouakFafa, Firr by Nova, Jarabi by Jali Madi, Al Bulo by T Smallz, Without You By Singateh, Soon or Later by Benjahmin, PonMi by Deejay Limbo, NnaKamma by MandingMorry and Deep Depth by Retsam
BEST MALE UPCOMING ARTISTE: Nyancho, Jizzle, Karafa, Artenola, A2, Lixen and Maha
BEST FEMALE UPCOMING ARTISTE: Lady Quincy, Supreme Ladies, Awa Bling, Aminata Baldeh and Sofia
BEST GAM MUSIC RADIO SHOW: Wahsahalat, Gambian Zone, SunuMusico, Gam Vibes and Gam Flavor
BEST BAND: Humanity Stars, Holy Family, Kebba Taylor and Friends, Richard and Friends, Police Band and Army Band
BEST SONG OF THE YEAR: Aling Domo by ST,Big Headed by Gee, Soon or Later by Benjahmin, Domandingdorong by MandingMorry, DamaYii by BaiBabu, Fen Rek by T Smallz and Cha la lala by Kerr G Family.
BEST MUSIC GROUP: Kerr Gi Family, Poetic X, AbouakFafa, Humanity Stars, MJ & J Mbaye, New Era, Slam G andGrandizKroo
BEST DANCEHALL REGEA DANCEHALL ARTISTE: Royal Messenger, ENC, Silky Criss, Singateh, Papa Lengthy, Deejay Limbo, Magnificent Joe andBenjahmin
BEST HIP HOP ARTISTE: Killa Ace, T Smallz, OG Log, Vypa,BigFaa, ST, Gee, Sir X Ooz, Omid Wisdom andPoetic X
BEST AFRO MANDING ARTISTE: MandingMorry, ST, Jalex, Jali Madi, Baddibunka, Bala Ranks and King Kora
BEST MUSIC PRODUCER: State of Mic, J Live Music, Ghetto Boy Music,Shy Boy, The Block and Alliance Franco.
BEST RAP MBALAX ARTISTE: Slam G, Gee, BaiBabu,Mighty Joe, Tam 50and MJ & J Mbaye
BEST MBALAX ARTISTE: MC Mbaye,YusuphaNgum, Tapha Artist,AbouakFafaand Modou Kara Gaye
BEST TRADITIONAL ARTISTE: JaliNenehSuso, YusuphaNgum, JaliNyahalingKanuteh, FayerNgum, Jali Madi, Tata Dinding,King Kora and Pa Bobo.
Read Other Articles In Article (Archive)