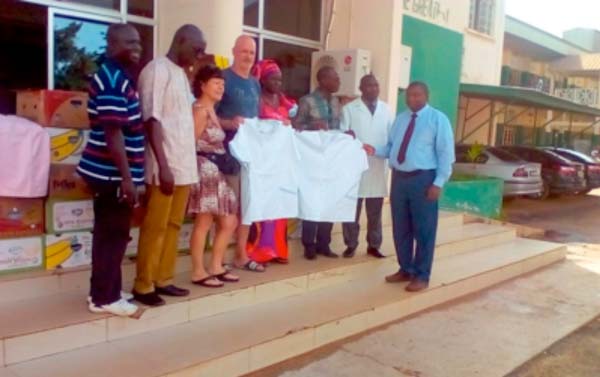 Edward Francis Small Teaching Hospital (EFSTH) was Tuesday boosted with uniforms and patients gowns for its staff at a ceremony held at the hospital ground in Banjul.

The gifts were donated by a Belgian couple, Eric De Coyer and Carine Tijoen.
Presenting the items to the hospital, Eric De Coyer, said for over fifteen years they have been helping The Gambia not only to bring materials but other useful things.
He thanked the people of Belgium who also contributed in supporting them in order to bring the donation to The Gambia, adding that without their support it would have been difficult to do it.
"We can give them to hospitals to help the people of The Gambia. That is very important because in Europe a lot of things get spoilt," he said.
Dr Ahmad Lamin Samateh, Chief medical director of EFSTH, said it was a very happy moment for them to be receiving medical uniforms and patients' gowns.
He lamented that the materials are in short supply at the hospital and the hospital management was working very hard to make sure that all staff wear appropriate decent uniforms.
This was very important for the professionalism of everybody in the hospital, he stressed. He however praised the nurses for wearing decent uniforms, as their uniforms are always clean.
"The hospital management decided to get all members of staff to put on uniforms and have decent uniforms," he added.
Dr Samateh noted that the gesture was important for the hospital, saying its touches his heart seeing friends of The Gambia coming to see what their needs are.
Getting these materials here was very expensive, he stated, saying that they really appreciated the gesture and he thanked their friends and local partners, Lamin and Haddy who have been very instrumental in coordinating all activities.
"We want to assure them that the materials will be put into good use and it will be given to the people who need it," he stated.
Read Other Articles In Article (Archive)