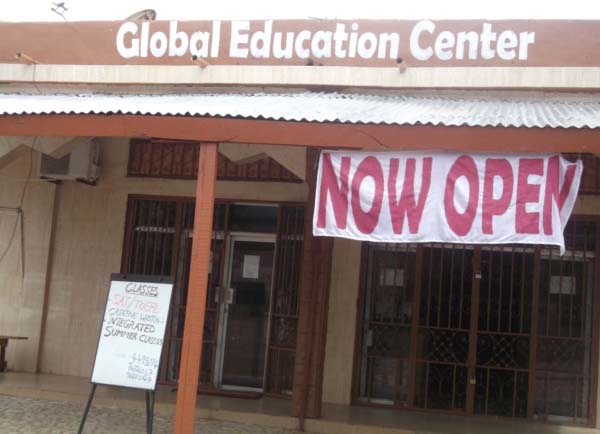 Muhammad Musa (Papa) Njie, founder of Global Education Center, a newly-established education center in the country, has emphasised the importance of education, saying it is key to the growth and development of the individual and the nation.
The center, which has emerged in the path of educational advancement in the country, could be regarded as a transit point for one's success through learning.
Mr Njie,  a Gambian who owns and runs the three-month-old center,  priorities education, as well as sports, in national development on the maxim: "Before anything, education first."
In a recent interview with The Point, Mr Njie said the initiative of the centre was based on his secured experience of over eight years working as an education adviser at the US Embassy in Banjul from where he developed the passion for education to helping students achieve their dreams through quality education.
He said the objective of the Center is focused on aiding brilliant and deserving students to secure oversees scholarships as well as serving as a guiding point for students.
According to Mr Njie, the centre also offers WASSCE in math and English, IGCSE in math and English, SAT and TOFEL, functional adult literary, public speaking and communication skills using technology for individuals and companies as well as computing and information technology.
Located at 1 Garba Jahumpa Road near The Point Newspaper in Bakau New Town, the center is also focusing on offering students with other information relevant to furthering their education.
Mr Njie said the centre offers online visa application service for USA, Europe, Asia and other parts of the world.
Service fees depend on person's capacity and agreement, he said, adding that the centre is not all about making money. It is also meant to help good and deserving students to achieve their dreams, he added.
He described the center as a one-stop point which guides and helps deserving students to secure university/college scholarships abroad as well as helps students to send and receive documents through their partnership with DHL services. 
"The center provides typing, laminating, photocopying, printing, and DHL and postal services," he added.
The center also offers a voluntary working experience space for students to develop their potentials for a period of three months or more before further moving to universities or to the business world, he explained.
"I have a passion for kids and the young ones and education is the key," Mr Njie said, adding: "I also have the passion for sport."
The center encourages people with sports talents to also significantly consider their education, which yields dividend in one's success through securing education.
"If you are a good sports person you also need to have and maintain good grades," he said, adding that the centre also helps in developing students' writing skills.
He further encouraged parents and guidance to plan ahead and seek the center's advice and guidance before their children graduate from grade twelve. 
Read Other Articles In Article (Archive)