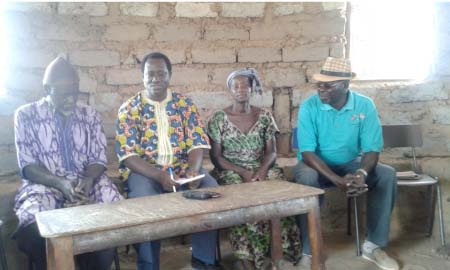 The acting regional education director for Region 3, North Bank Region, has commended Kerr Demba Holleh Lower Basic School of Upper Nuimi, North Bank Region, for its large scale cultivation of groundnut and cashew.

During a visit to the school's one hectare cashew farm and two hectare groundnut farm, Paul K Mendy said the farms will complement the school feeding programme.
Mr Mendy further stressed the need for schools and communities to work together in establishing school farms and orchards to complement the school feeding programme.
He also lauded the community for their establishment of the early childhood education centre which is supported by Action Aid International The Gambia, and Agency for the Development of Women and Children (ADWAC).
He explained that the establishment of the School Improvement Grant is aimed at empowering schools to develop appropriate plans that would address the development challenges and enhance teaching and learning in schools.
The acting regional director said his office is committed to promoting seed banking with the ultimate objective of ensuring that all the schools in the region are engaged in cereal production by 2018.
Chebo Saho, chairperson of school management committee, thanked the Education Directorate for their "invaluable support" in upgrading the school to lower basic school which he said has improved the learning environment.
He commended the community for their support to the school, and also launched an urgent appeal for provision of clean drinking water to the school as well construction of four additional classrooms, and teachers' quarters.
Sali Kebbeh, Alkalo of Kerr Demba Holleh, assured of the village's continued support to the school and thanked the education directorate for providing the school with teachers.
Read Other Articles In Article (Archive)