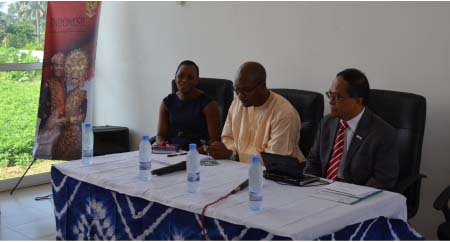 The red carpet has been rolled out for members of the Gambian private sector to penetrate the Indonesian market as well as to establish business partnerships with the Indonesian business community.
This was declared yesterday by the Indonesian Ambassador to The Gambia residing in Senegal, H.E. Mr Andradjati, while making a presentation on Indonesian products, tourism and Trade Expo Indonesia 2013.
Speaking on their government's intention to promote bilateral trade relations between the two countries, Mr Andradjati said: "I think through this Expo, which is to be held this month (October 2013), if the Gambian businesspeople come to Indonesia, they will have the opportunity to see directly our products and to deal directly with Indonesian partners."
He added: "Part of our mission is to introduce and talk about travel industry, tourism and agriculture, seeing that there is big opportunity through cooperation in the field of tourism between Indonesia and The Gambia.
"I encourage the travel agencies in The Gambia t o export more tourists either from The Gambia or from foreign tourists who come to The Gambia, to go to Indonesia."
Ambassador Andradjati said his country's products are of good quality whilst the prices are competitive and reasonable compared to prices of products from other countries. 
He said cosmetics, medicines, glassware and many other goods in the Gambian market are produced in Indonesia, which makes  it necessary for business operators to purchase such goods directly from Indonesia instead of through a third party or brokerage house in some other countries such as Dubai.
The Indonesian ambassador also said they are interested in having a partnership with the Gambia Chamber of Commerce and Industry (GCCI) to increase their bilateral trade relations and export potential.
"If I mention bilateral trade relations," Mr Andradjati notes, "I mean export and import between the two countries, which is win-win situation, not only Indonesian exports but also Gambian exports to Indonesia. So, through this partnership with the Gambia Chamber of Commerce and industry, I think we can have more opportunities to increase our bilateral trade relations because I want to have direct trade between Indonesia and The Gambia, because mostly our trade with Africa is via third countries or parties, because of the distance and also because both sides do not know much about each other; that is why through this forum and through the expo I think we can have more familiarities between our two partners."
According to GCCI President Muhammad M. Jagana, the Indonesia Trade Expo, which is to take place this month, is going to open more opportunities for Gambians to create direct trade relationship between The Gambia and Indonesia.
"Already lots of products are coming into The Gambia from Indonesia indirectly, but I think much of this is the structuring of the financial scheme; so we have to look at it from Government to Government and from association to association level - how do we structure the finances in terms of export guarantee schemes or incentives from the Indonesia Eximbank that would allow Indonesians and Gambians to go into joint ventures or agreements.
"And at the same time Gambians also need to use this opportunity to expand our export base and try to see what we can export into Indonesia so that we create indigenous wealth within the country."
The GCCI president also said partnership with Indonesia and The Gambia around trade fairs and business expo is something the GCCI secretariat is keenly considering.
"That is something that the GCCI secretariat would have to take up to see how we can invite Indonesians during our Trade Fair Gambia, which is held every year, so that we can also tighten the relationship between the exporters and importers of The Gambia and Indonesian during that time," he said.
There are lots of products from Indonesia, already being sold in The Gambia through middle houses or brokerage houses somewhere in Dubai.
Mr Jagana says Gambians should now break this barrier by directly penetrating the Indonesian market through this window of business opportunities created by both parties.
 "I think for the Gambians, this is an opportunity for them to go out and look at what they can do. The Indonesian Trade Expo is offering some good deal for Gambians who may want to attend or witness the Expo," he said.
"If we put together ten Gambians minimum, the Indonesians are offering free accommodation for them, and I think people should contact the Chamber of Commerce to see how they can be part of that group and go there and see the opportunities that they can develop and bring also to expand the base in The Gambia."
Read Other Articles In Article (Archive)