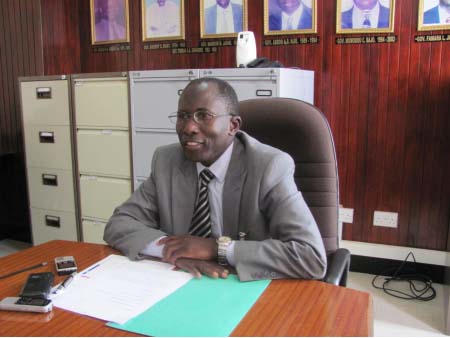 The essence of effective risk management and good corporate governance, especially as regards financial institutions, cannot be overemphasized.
This is because without effective risk management (ERM) and good corporate governance, business organizations are vulnerable to severe mishap that could cost them dearly.
Hon Amadou Colley, Governor of the Central Bank of The Gambia (CBG), in  his keynote address at the West African Institute for Financial and Economic Management regional course on "Implementation of effective risk management and good corporate governance practices, held from 16  to 20 June 2014 at the Paradise Suites Hotel in Kololi, said concerted and coordinated efforts are required to manage risk, considering the main lesson derived from the 2007-2009 world financial crisis and its attendant ERM literature.
About six years ago, the world was caught in the web of one of the greatest and profound economic crises which, like the great depression of the 1930s, called to question the very foundation of market capitalism, Governor Colley recalled, saying the consequence of the crisis was so profound that renewed thinking started to emerge on the relevance or otherwise of free market economic doctrine.
The CBG Governor, who was addressing senior central bank officials, other financial institutions' executives, and economists from the WAIFEM member countries of Ghana, Nigeria, Liberia, Sierra Leone and The Gambia, said however, there is the general consensus among economic and financial experts that the crisis was caused mainly by three major failures.
These he noted as regulatory and supervisory failure in advanced economies; failure in risk management in the private financial institutions; and failure in market discipline and mechanisms.
"Specifically these failures were, in turn, attributed to poor corporate governance and lack of robust risk management frameworks," he added, saying the recent financial crisis has drawn global attention to the existing system of risk management and the need to re-structure the global financial architecture given the inherent interconnectedness.
Having highlighted the dire situation of financial institutions, especially in West Africa, with regard to ERM and good corporate governance, Governor Colley shares some suggestions that could assist and enhance the efficiency of supervisory authorities.
He says: "Given the contagion effect of the recent global financial crisis and the fact that West African economies cannot de-couple from the rest of the world, the need to strengthen the various economic fundamentals towards attaining and sustaining macroeconomic stability, increasing productivity and accelerating economic diversification for growth cannot be overemphasised.
"We need to adopt and entrench appropriate supervisory and regulatory culture towards ensuring effective risk management and good corporate governance. 
"As there are no crystal balls to perfectly forecast the future of the global economy, maintaining sound macroeconomic fundamentals remains sine qua non to cushion downturns."
The Governor continues: "Permit me to present few suggestions that could assist and enhance the efficiency of supervisory authorities:
"The nature and complexities of banks pose serious challenges to supervisory authorities. Therefore risk-focused supervision, which is institution-specific, must be adopted by supervisors. Supervisory authorities must ensure that their risk-assessment systems take into consideration industry-wide trends.
"It is important and appropriate for regulators to understand the risk profile of institutions and accordingly set minimum capital and liquidity requirements.
"Regulators should consider the adoption of counter-cyclical measures by finance institutions in their jurisdictions.
"There is also the need to have a proper balance in the board. It is critical that the board comprises sufficient independent directors with diversity of knowledge judgment and experience.
"Financial innovation has increased the lack of transparency of financial institutions. Regulators are usually far behind the operator's 'knowledge curve'. For instance, it took regulators several months to discern the magnitude of the crisis. It is, therefore, a matter of urgency that regulators build capacity in a manner that would match the speed and innovation of the industry.
"Given that credit rating agencies measure the probability of default, they should not be heavily relied upon to validate the health of financial institutions.
"Given cross-border banking, there is need for extensive cooperation and coordination at regional, continental and global levels of bank supervisors. The College of Supervisors of the West African Monetary zone has a critical role to play in this respect.
"As a final point, I wish to reiterate that all financial institutions need sound risk management and corporate governance practices."
Governor Colley said an enterprise-wide approach is appropriate for setting objectives across the organization, instilling a culture attuned to risk, and ensuring that key activities and risk are being monitored regularly.
Clearly, he noted, it is paramount to ensure that institutions are not only identifying, measuring, and managing their risks but are also developing and maintaining appropriate corporate governance structures for their business activities and risk taking.
Read Other Articles In Article (Archive)