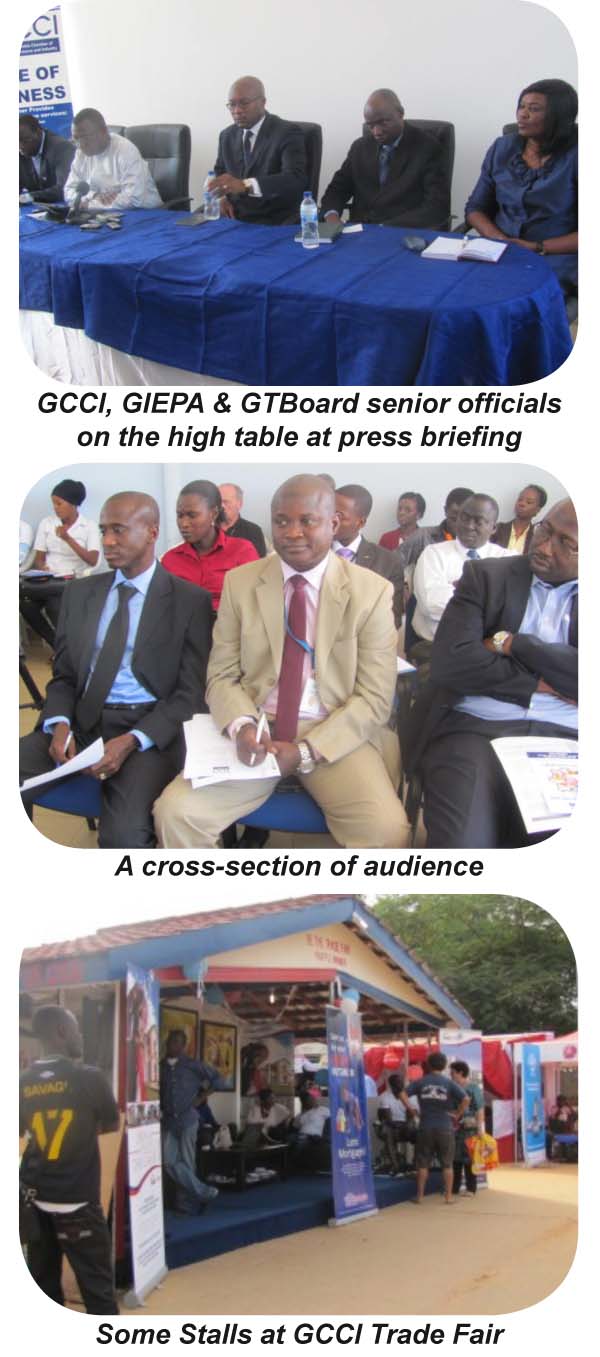 This year's trade fair by the Gambia Chamber of Commerce and Industry (GCCI), which is just around the corner, is expected to go a notch higher as it is being planned to promote the creation and growth of industries and enterprises, as well as network local enterprises with business opportunities at international level.
Many other salient objects behind this noble and business-driven fair have added more bliss and meaning to the initiative and made it compelling for each and every member of the private sector to partake in.
Whilst this year's fair will be held from 1 to 16 March at the Independence Stadium, on the theme: "Inclusive Growth through Partnerships", the TFG – Trade Fair Gambia - continues to promote the exportation of 'Made in The Gambia" products and facilitate Public Private Partnerships.
At a recent press conference held by the Chamber at its Kerr Jula Secretariat, Bertil Harding Highway in Bijilo, officials of the Chamber said the fair is out to promote the creation and growth of industries and enterprises, network local enterprises and business opportunities at the international level, present an opportunity and platform for business and industry innovators to showcase and possibly collaborate, allow venture capital entrepreneurs/businesses to explore investment opportunities, encourage joint ventures, facilitate Public Private Partnerships, champion the creation of private sector jobs, promote the exportation of 'Made in The Gambia' products, increase inter-regional trade, highlight investment opportunities in The Gambia, and support Vision 2020.
Looking at the abovementioned opportunities awaiting entrepreneurs, businesses and even consumers, all that is seen is a win-win situation for all and sundry including international participants.
International participants will include Benin, Burkina Faso, Ghana, Guinea Conakry, Mali, Morocco, Niger, Nigeria, Senegal, China, India, and Pakistan and many more from different parts of the world, said Beatrice Prom, GCCI Public Relations Manager and member of the Trade Fair organizing committee.
She says the participants, whose stalls in the fair will be allocated on a "First come first served basis", will fall under the categories of Agricultural Enterprises, Clothing Industry, Energy including Renewable Energy Industry, Manufacturing Industry, Public Enterprises Service Providers, Traditional Medicine, Banking and Financial Services, Construction Industry, Food Industry, Non-Governmental Associations, Science and Technology Innovations, and Tourism Industry.
"So buy your stalls now," she calls on all and sundry, saying the scope of the Trade Fair will also include organising a business forum on Inclusive Growth; organising "My Day of Business" for demonstration of business products; developing linkages between Gambian and international business through Business to Business (B2B) meetings; and promoting ECOBIZWORLD (ECOWAS Business Directory).
Participants and visitors, who will include businessmen and women, government officials, investors, consumers and tourists, will be treated to side events such as Gambia Day/Food Festival, Senegal Day/ECOWAS Day, daily musical entertainment by Gambian artistes; and fashion show of extraordinary fashion.
According to Ms Prom, the Chamber is making provision for about 250 stalls to accommodate as much as possible.
More opportunities in the offing
In his remarks at the Meet the Press briefing held last week at the Chamber's Secretariat, GCCI Chief Executive Officer Alieu Secka said there is a lot in store for members of the private sector, especially for members of the Chamber.
While outlining some of the development services the chamber intends to roll out in the years ahead as Sectoral Consultative Meetings, Business Alternative Dispute Resolution, Research service, Employer Representation with the Department of Labour, and Social Dialogue Forum, CEO Secka said: "On Enterprise Development Fund, we have started consulting and wish to explore new ways for our large and profitable businesses to possibly consider their CSR and contribute to some fund which we hope the Government will find amenable and accept some tax breaks. Other avenues to source funding will be through local projects and development agencies, in partnership with GIEPA and the Ministry of Trade, Industry, Regional Integration and Employment."
On establishment of commodity exchange centre, he also said: "With support of the UNDP and MOTIE, GCCI plans to create a commodity exchange center that will facilitate the trading of shares in the new companies that have public equity, agricultural products, essential food commodities and basic services. In the absence of a stock market, private investors will therefore have access to some equity capital for expansion or investment and especially to achieve the theme of Inclusive Growth through Partnerships."
Read Other Articles In Article (Archive)