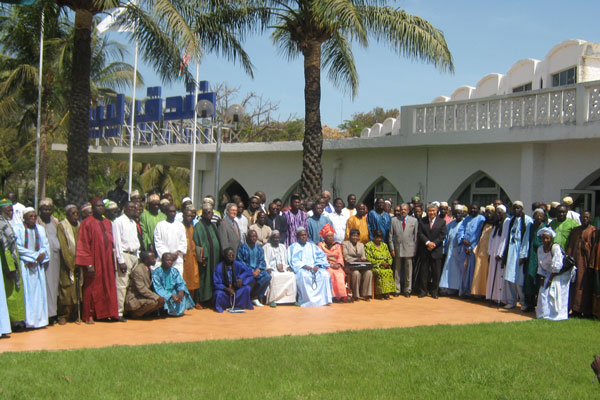 As part of its outreach programme and desire to bring the National Assembly closer to the people, and as a prelude to the State opening of the National Assembly by the President, the National Assembly yesterday organised a one-day workshop for traditional rulers and divisional commissioners on the theme: Democratic Good Governance and Empowerment of Local Government Administration.
The occasion, being the second of its kind, brought together all the district chiefs in the country, National Assembly Members and regional Governors.
Among the topics deliberated on were the electoral system in The Gambia, roles of Central Government, political representation and distribution of power, decentralisation of structures and services, law enforcement organs and respect for the rule of law and due process.
The workshop was sponsored by UNDP.
In his keynote address at the occasion, Alhaji Ismaila Sambou, the Secretary of State for Local Government and Lands, said this workshop is a follow-up as it will enable stakeholders take stock of the state of progress as far as local Government Reform Decentralisation is concerned.
In the view of Secy Sambou, the electoral and political systems in The Gambia have significantly improved since 1994.
"Today the political dispensation is transparent enough and encourages popular participation and citizen engagement in the political and economic development processes of the country," he said.
He said that decentralisation as one of the pillars of democratic governance, gives citizens the right and opportunities of participating in the economic and social development of their country through the creation of sub national layers of governance at the regional and local levels.
"Given their roles and responsibilities in socio-economic development of The Gambia, traditional rulers and National Assembly Members have an important role to play in decentralisation and local governance," he added.
He urged the National Assembly Members and district authorities to maintain the forged alliance between them in their endeavours for the successful implementation of decentralisation and local government reforms.
For her part, Madam Sirreh Ndow, who deputised for the UNDP Resident Representative, said that democracy requires the existence of effective representative institution at all levels, especially at the Local Government and Local Administration levels.
She added that local, regional and national governments must use their capacity and resources to deliver effective economic and social policies that promote human development and manage the public services that citizens expect and deserve.
She posited that good governance provides an effective and efficient framework for public management, and is crucial for poverty reduction and empowerment of citizens, noting that it enables them to exercise their rights and participate in decision-making.
In conclusion she assured them of UNDP's continual support to national authorities in strengthening civic engagement at local, regional and national levels.
Read Other Articles In Article (Archive)