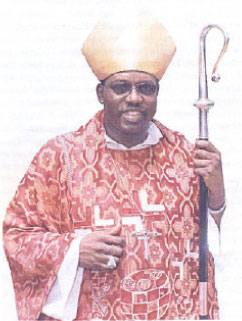 Deputy Police Commissioner Lalah M. Camara, Banjul Division Chief of Operations Ebrima Jabang and a delegation of top Police officers were the latest group to pay tribute to the late Rt. Rev Dr Solomon Tilewa Johnson, first Archbishop of the Internal Province of West Africa and the Ninth Primate and Metropolitan of the Church of the Province of West Africa, who passed away on 21 January 2014.
The delegation on behalf of the Inspector General of Police yesterday paid tribute to the late Archbishop at his Fajara residence.
In a solemn remark made to the bereaved wife and family, Lalah M. Camara, Deputy Police Commissioner, said: "We are here to sympathize with you and the family for the great loss of the Archbishop."
She therefore prayed for God to give strength and courage to the family, in their time of great loss. "May his soul rest in perfect peace," she concluded.
Ebrima Jabang, Chief of Operations at the Banjul Police Division, began by extending condolence to the family of the deceased.
"May God reward him for all he has done, his family members, neighbours and everybody. May God shower his blessings on him and his family," he said.
"He has strived hard in his life time portraying the word of God to people," he said of the deceased, while praying to God to reward him for all his good deeds.
"He was a peaceful man who worked for peace and may peace be with him," he added.
Mother Precilla Johnson, wife of the late Archbishop Johnson, said in response: "I thank you most sincerely for taking time out of your busy schedules to come and pay tribute to my late husband.
"For you to travel from Banjul to the home of my late husband here speaks volumes as your duty is round the clock. I am touched by the fact that you have even come to do so in a formal manner.
"Thank you very much and convey to the Commissioner of Police my deep gratitude on behalf of the family and friends of the late Archbishop. Thank you very much for the kind words you have said.
"All this shows love, care and concern, and the tributes that have been paid to his memory are a lot to us and it has helped to assuage the pain, and hurt that we are feeling right now as a result of his sudden departure."
She added: "Thank you for blessing our souls this afternoon; when the children call later today I will tell them and I am sure they would want me to pass on their very best thanks to you."
"Thank you and may God bless you in your various positions that you hold in the Gambia Police Force and may God make the Gambia Police Force a unit to contend with in The Gambia."
Oreme Joiner, who moderated the ceremony, said the funeral service will be on 21 February and considering the delegation that might be coming, they would need security assistance but this will be done in writing in due course.
Solo Joiner, Chairman of the Funeral Arrangement Committee, said they are proud of people coming to pay their condolences to the family.
"Indeed the loss of the Archbishop is not only to his family or the Christian community; this is a loss to the whole nation," he pointed out.
"He was doing a good job and we would have loved to have him around to continue doing the job that he was doing but always God knows better and he has called him to his glory and we accept it," he admitted.
He described the funeral arrangement as not a small event for them, saying they will count on the Gambia Police Force and other institutions for the funeral and final rest of Archbishop Johnson.
"We will definitely knock on your doors for this day to seek your assistance in making the day smooth," he said, while thanking them very much for the gesture. "It is greatly appreciated," he noted.
Lees Mendy, a childhood friend of the deceased up to the time of his death, thanked the delegation and all those who have been sympathising with them since the death of the Archbishop.
"You came here to show your love and sympathy; so may God reward you for the steps taken and give you long life, good health, as well as protect you and your families," he prayed, saying: "Archbishop Johnson never looked at who you are since he was young to his death; he sees everybody as one," he concluded.
Read Other Articles In Article (Archive)