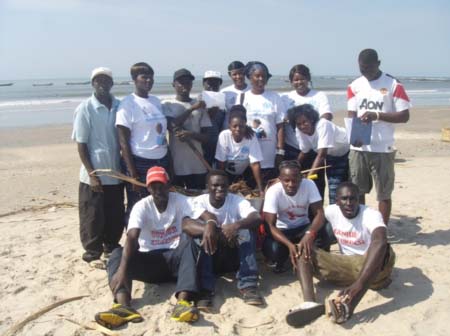 Eco Travel Gambia in collaboration with Gunjur Kulukochi Youths Development Association, VDC of Gunjur and the Gunjur Fisheries Department on Saturday organizes a cleansing exercise at the Gunjur Beach.
The aim of the cleansing exercise was to keep the beach clean to avoid contamination of the river.
Eco Travel Gambia is a registered organization based in The Gambia with the aim of significantly promoting responsible tourism, environmental conservation, socio-cultural and economic values livelihood of the people.
The organization has realised the complex challenges when it comes to a clean and healthy ocean, trashes along the coastal zone and marine environment.
According to Demba Touray, Gunjur VDC chairman, it is very important to keep the beach clean because fish is what is being prepared there and the place should be clean.
He said they also clean the beach so that anyone who comes there, tourists or locals will be happy and comfortable.
He said cleaning the beach will also boost their health as individuals, thanking all those who took part in making it.
For his part, Wuyeh Jabang, salesman at the Gunjur Ice Plant, said it is very important to clean the beach, especially now that the government is coming up with a policy to select fishing centers that will export fish to other countries.
"Since Gunjur fishing center is lucky to be among those selected, it is very important to keep the place clean."
According to Buba Saho, Eco Travel Gambia, Gunjur is a fishing village and all the fishing activities take place at the beach hence the need for them to clean the beach.
He said Eco Travel Gambia stand for sustainable development, adding that their main concern is the protection of the environment they live in.
He said their activities include tree planting to replace trees that have been cut down.
For his part, Ousman Barjo, Kulukochi youths and development association, said their organization was founded 7 years ago and one of their aims is to clean and protect the environment for sustainable development.
He said they are cleaning the beach because 90% of their fish come from the river and they have come to realize that polluting the area will not be good for their health.
He said Kulukochi is a Gunjur-based association formed by the Kulukochi community youth.
Read Other Articles In Article (Archive)