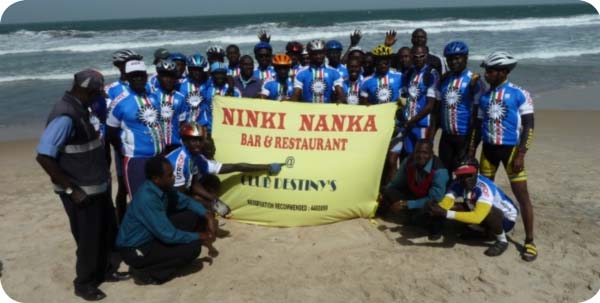 The latest activity in their efforts to get the sport alive and kicking was a massive cycling race staged last Sunday morning, which started from the Ninki Nanka Bar and Restaurant all the way to Brusubi Turn-table and veered to the Lemon Creek Hotel, with the escort of the police.
Last weekend's cycling was the second-year participatory race organised by the Dutch nationals after the one last year.
The cycling brought together participants of twenty-eight youth cyclists from across the Greater Banjul Area all came from the Gambia Cycling Association.
The main sponsor of the event was backed by Laurens Hillmann of central events Utrecht of Holland, likewise the managers of Kababji, Ninki Nanka and Lemon Creek hotels.          
Speaking to Pointsports, Kommer van Trigt, chairman of Wilko-Gambia Foundation (WGF), also the father of the main sponsor who wants to make a difference in cycling in The Gambia, said they would like to stage a cycling race next year, which is set to attract many participants to compete in tens of kilometers.
He further revealed that the cyclists need good knowledge of the strategies of the race, adding that he would like to see people developing interests in cycling as it is for football.
He said they are looking forward to organizing a huge cycling competition next year, with maximum participation from cyclists across the country.
"Cycling in the nation will also be a tool to help reducing the youth unemployment rate as cycling races are being organized," he said.
In another development, he said the WGF was raised in 2006 in the nation through which they have assisted many people in various sectors.
They have also been assisting the needy before the erection of the foundation at a private level, he said.
The secretary general of the Gambia Cycling Association (GCA), Baboucarr Jabai, said the event was set to promote cycling in the country, whilst thanking Kommer van Trigt for the support as well Laurens and all those who stood behind the success of the event.
He also urged schools to form cycling clubs to enable them participate in the competitions.
The vice chairman of the GCA, Edrisa Njie "Chicko", expressed similar sentiments.
Read Other Articles In Article (Archive)