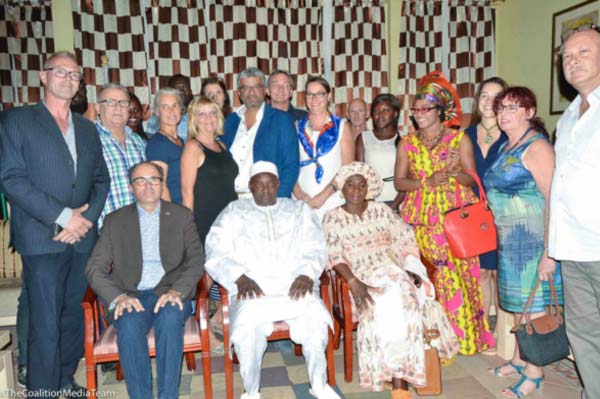 The Dutch-Gambia Business Link (DGBL) led by Marc Van Maldegem, General Manager of Kombo Beach Hotel, over the weekend, paid a courtesy call on President-elect Adama Barrow, at the Kairaba Beach Hotel.

They congratulated President-elect Barrow on his victory and assured him of their support.
Van Maldegem said Dutch-Gambia Business Link (DGBL) seeks to promote collaboration between the Dutch business community and the Government of The Gambia.
"We have an extensive membership of over 20 members representing a multitude of small and medium enterprises (SMEs) and organisations in various sectors like tourism, renewable energy, medical services, hospitality, agriculture, import and export."
Many of them have been living and working in The Gambia for more than 10 years, he said.
"In our membership, we have a wide range of expert skills with which we can contribute a variety of unique products and services to the Gambian economy," he added.
The Dutch embassy was also represented by the Honorary Consul of the Kingdom of The Netherlands to The Gambia, he said.
He noted that the business link is extended to the Dutch-speaking nationals of the Benelux and to Gambians who are Dutch-speaking and work at or own a business with a strong relationship with The Netherlands.
He disclosed that members of the organization have even provided employment for close to 1000 Gambians.
He added that they were in The Gambia because they like living in the country, and not to exploit the nation by enriching themselves and taking profits out of the country.
He said they are law-abiding people who are trying to make a substantial contribution to the development of the country.
"We Dutch are known to be direct, to the point, multi-cultural, hardworking and we know how to adapt to new situations."
A coalition on the political field is the norm for them, as "this is how it has always been done in The Netherlands".
"We are looking up to the new administration with much anticipation to improve the environment, for new and existing businesses and investors to contribute to the growth of the Gambian economy and as such contributed in creating employment."
He said the procedures and terms for renewing licenses is reviewed every year in January and the entire business community has to go through this process overloading the agencies responsible for this and creating long waiting times.
The DGBL and its members are ready to work with and support the new administration as they hope for the better.
The courtesy call, he added, is a step in creating more fruitful relations between The Gambia and The Netherlands.
Read Other Articles In Article (Archive)