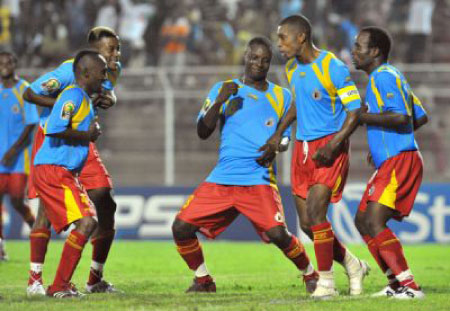 The Congo DR national football team (formerly the Zaire national football team) is the national team of the Democratic Republic of Congo and is controlled by the Fédération Congolaise de Football-Association (FECOFA), and are nicknamed The Leopards.
Congo have been ranked as high as 51 in the FIFA Rankings. As Zaire they were the first black African team to qualify for the FIFA World Cup and twice won the African Cup of Nations.
The Fédération Congolaise de Football-Association (FECOFA) was founded in 1919 when the country was not independent. The team played their first game in 1948 as Belgian Congo against Northern Rhodesia, now Zambia. The team recorded a 3–2 victory at home. Congo has been FIFA affiliated since 1962 and has been a member of CAF since 1963. The team's first official match was on the 11 April 1963, against Mauritania in the L'Amitié Tournament played in Dakar, Senegal. Congo won the match 6–0.[1]
Glory period
The Democratic Republic of Congo (then known as Congo-Kinshasa) had its first international success at the 1968 African Cup of Nations held in Ethiopia, beating Ghana 1–0 in the final. The team's biggest ever win came on 22 November 1969 when they recorded a 10–1 home victory against Zambia. From 1971 to 1997 the country, and therefore the team, was known as Zaire. Their first game as Zaire was played in Cameroon against Sudan. Sudan won this game 3–0. Six years later Zaire won the 1974 African Cup of Nations in Egypt. The team recorded a 2–1 victory against Guinea, another 2–1 victory against rivals Congo and a 4–1 victory against Mauritius. These results carried Zaire through to the semi-finals where they beat hosts Egypt 3–2. In the final Zaire drew with Zambia 2–2. Therefore the match was replayed two days later, where Zaire won the game 2–0. Zaire player Mulamba Ndaye was top scorer with nine goals, wehich remains a record for the tournament. After this, the team returned to Zaire on the Presidential plane, lent to them by Mobutu Sese Seko.
Read Other Articles In Article (Archive)