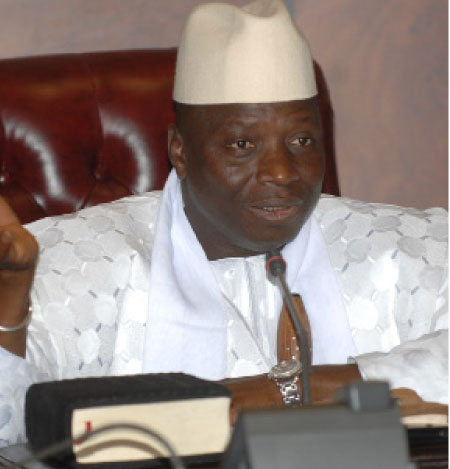 President Yahya Jammeh Thursday urged members of his cabinet to always do what is right, fear nobody or risk going to jail.
Jammeh was speaking during the swearing in ceremony of the newly appointed Attorney General and Minister of Justice Amie Joof and the new Solicitor General and Legal Secretary, Basiru Vassili Potier Mahoney at State House in Banjul.
'As both of you were judges, I don't need to belabor this point, but I will tell you something that is very clear: do what is right, fear nobody, but do what is wrong and be ready to go to jail,' he said.
Recalling his old days, President Jammeh said: 'In those days when that old man used to talk about it, we used to laugh at him; but over the years, we realized how correct he was, and how foolish we were to laugh at him thinking that he was an idiot; because we do hope to learn that whatever you do, there would be consequences both positive and negative, but the fact that the world is three days gives us a wider latitude to be able to avoid loopholes here and there, to rectify our ways so that we can live a better more dignified life.
'None of us is perfect, we are bound to make mistakes. If you make a mistake once, that is a mistake, the second time you make the same mistake, it may be qualified as suspicious, but the third time, it is intentional. Why? Because you made a mistake day before yesterday, you make the same mistake yesterday and today you suffering for it. Then if you repeat it today, it means you want to suffer so you should be dealt with, that is my principle,' Jammeh stated.
Noting that it is not a pleasure to always dismiss people from their jobs, President Jammeh said Gambians are very interesting, they are not stupid or ignorant, but they have this habit that I don't like.
'When somebody is doing something very bad, they will not tell me, and they will be saying we don't know why Yahya Jammeh is keeping this man; and as soon as the person is kicked out, they say this was in fact long overdue.
'If somebody is not worthy of an office and he is a public servant serving the Gambian people, and you know that he is destroying the country, why would you wait until it comes to the attention of the President. So if you are a patriotic citizen, if you cannot report him, talk to the person and tell him to stop what he is doing, because it is bad,' he added.
Noting further that they are public servants serving the Gambian people, Jammeh enjoined all Gambians to make it a collective duty to fight evil in whatever form or whoever is behind it.
'So if we are doing something wrong, don't say wait the President will know about it or the President is watching him; it is our duty as good Muslims and Christians to make sure that we fight evil in whatever form, and whoever is behind it, he stated.
According to him, that is in the Quran and it is in the Bible. It is also in the laws of The Gambia, Jammeh went on, further stating that every good citizen is a policeman.
"So if you see Yahya Jammeh doing something bad, and you are waiting for God to do something, why can't you tell Yahya Jammeh what you are doing is bad or tell somebody who can come to Yahya Jameh and tell him it is bad"z.
While urging members of his cabinet to have faith and put their destiny in the capable hands of the Almighty Allah, Jammeh opined that as a human being, your best friend and your worst enemy can be your heart, your conscience.
'If you indulge in evil, you are your own number one enemy because sometimes people may like or dislike you for what you do. In most cases, others will just hate you. Even God himself have people that hate him, so who are we. All the Prophets have been ridiculed and insulted while some were killed and who are we that think that everybody will love us because we are Ministers or Presidents or whatever,' he concluded.
Other speakers at the swearing ceremony included the Vice President and Minister of Women's Affairs, Aja Dr Isatou Njie-Saidy, the Secretary General and Head of the Civil Service who is also the Minister for Presidential Affairs, Dr Njogu Bah, and the Minister of Trade, Regional Integration and Employment Kebba Touray.
Attorney General and Minister of Justice, Amie Joof commended President Jammeh for the trust and confidence he has in them, noting that they will work to live up to expectations.
Read Other Articles In Article (Archive)