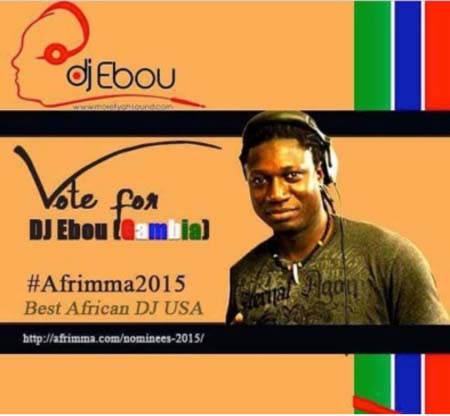 DJ Ebou Njie, a Gambian Deejay based in US, has been nominated for the 2015 African Muzic Magazine Awards (AFRIMMA).
Njie, who is also the proprietor of More Fyah Production in Dallas Texas, is the only Gambian celebrity nominated by the African Muzic Magazine Awards (AFRIMMA) 2015.
AFRIMMA is the sole award ceremony in the Diaspora that caters for all musical genres, including but not limited to: Afrobeats, Assiko, Bongo, Decale, Funana, Genge, Highlife, Hiplife, Kwaito, Lingala and Soukous.
Afrimma's purpose is to create a platform that promotes the diversity of African music by bringing influential artistes from different African countries for a night of celebration.
DJ Ebou, an advanced degree holder in Business and IT, is one of the best and most established African/Reggae DJs in the Dallas/ Fort Worth area.
He runs a sound system and music label "More Fyah Productions" with few DJs and artistes working under him.
In the past 15 years, DJ Ebou had released several reggae/Dancehall/Afro-pop mix tapes and compilations, and has literally backed all major international reggae artistes during their concerts in the Dallas area. He has also played in all major reggae clubs, bars and restaurants in the metro Dallas area.
His latest project was the opening of ALDEEZ (an Afro-Caribbean bar and restaurant) which has started gaining momentum. He did and still continues to do a lot of philanthropic activities, especially for anything Gambian but always likes to stay behind the scenes.
He delivers more than he talks and his work speaks for itself. The AFRIMMA award has 27 categories, including Traditional artiste, Best male artiste, Best female artiste, Best African DJ-USA etc with big names like Wizkid Nigeria, Carlou D from Senegal, Soweto Gospel choir from South Africa, Flavor from Nigeria, Tunakie from Namibia, Eddy Kenzo from Uganda, Jaguar from Kenya, Vivian Chidid from Senegal etc.
Fortunately and unfortunately, Ebou is the only Gambian nominated in the 2015 AFRIMMA Award. He is nominated under the Best African DJ-USA.
The link http://afrimma.com/nominees-2015/ shows the "Best African DJ USA" category where you can vote for DJ Ebou.
Read Other Articles In Article (Archive)