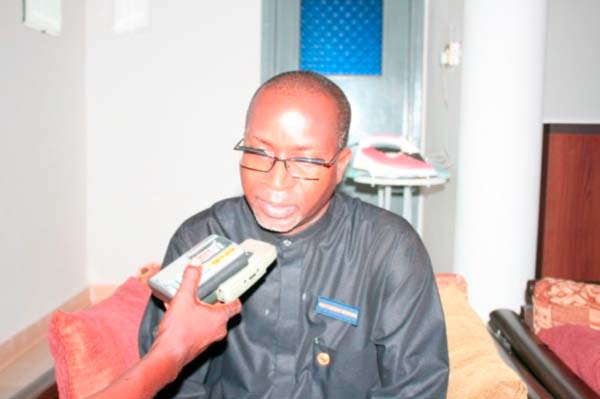 The newly-elected district Governor 9101 of Rotary Club International for 2016-2017 Monday evening arrived in The Gambia for a four-day official visit.

Upon his arrival at Banjul International Airport, district governor Aristide Tino Adediran was received by members of the Rotary Club of Fajara, among other Rotarians.
The district governor is in The Gambia to meet with the Rotary Club of Fajara and Rotary Club of Banjul, as part of his mandate.
Speaking to reporters at the Akkwa Suite Hotel, Rotarian Aristide Tino Adediran said as the newly-elected district governor of Rotary Club International 2016-2017, he is responsible for ten countries in West Africa, namely Guinea Conakry, Mali, Liberia, Sierra Leone, Senegal, Burkina Faso, Cote D' Ivoire, Cape-Verde, Guinea Bissau and The Gambia.
According to him, during his four-day visit, he would meet with various rotary clubs in The Gambia and share ideas and experience, as well as familiarise himself with them.
He would also visit some of the Rotarians' intervention project sites, as well as meet with the member Rotarians for a meeting.
District Governor Aristide Tino Adediran, who hailed from neighbouring Senegal, is a long-serving Rotarian with vast experience, having served the Rotary family in various capacities at national, district and international levels.
DG Tino leads District 9101, which spans 10 countries and nearly 80 Rotary clubs across West Africa, for the year 2016/2017.
Also speaking, the public relations officer of the Rotary Club of Fajara, Sainey Manneh, expressed his appreciation for the newly-elected district Governor visiting Rotarians in The Gambia.
He said during his stay in the country, the Governor would meet with Rotarians and young Rotaractors, as well as visit project sites of the Rotary Clubs of Banjul and Fajara.
The DG will also pay courtesy calls on dignitaries and government officials.
Mr Manneh further explained that Rotary is an organisation of business and professional leaders, united worldwide, who provide humanitarian service, promote high ethical standards in all vocations, and help build goodwill and peace in the world.
Read Other Articles In Article (Archive)