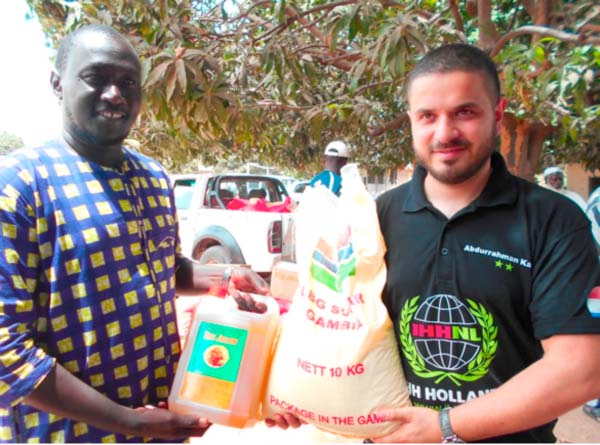 Turkish philanthropists based in the Netherlands through their organisation International Humanitarian Relief Organisation in partnership with locally-based Cemiyatul Hyre Relief Organisation (CHRO), The Gambia on Saturday distributed over five hundred bags of rice, sugar and oil, to various religious leaders, the needy and Muslims in The Gambia, at a ceremony held at the Tallinding Islamic Institute.

Speaking at the presentation ceremony, the country Director of Cemiyatul Hyre Relief organisation, Musa Jallow, said CHRO was formed early 2000, by three people with the aim to support the less privileged people in society.
He said the first donation that CHRO carried out was with one bull and since then they have given over five hundred bulls during the annual Tobaski feast.
According to Mr Jallow, CHRO is mainly to link their Muslim brethren from Europe to bring their resources to support the needy people in the country.
He said since 200O, CHRO has been working very closely with (IHNNL) in The Netherlands with their brothers and sisters who think back on The Gambia.
'Every year, we come twice to share with needy Gambians what we have,' he said, adding that the humanitarian relief organisation is building an orphanage at Cassa-Kunda village that would accommodate about 250 orphans.
He said the provincial people would also benefit from the package of food aid and about 250 various food items would be given to the people of Niamina.
For his part, the donor, Abdourahman Katirci, said they work in poor countries all over the world to help people during Ramadan.
"We supply people with food items, clothing and we sponsor schools. I feel happy to come and give support to the Gambian needy," he said.
Alagie Jawo, secretary-general of the organization said they have been operating for the past ten years with international donors to support the less privileged people in The Gambia.
"We are collaborating in many areas of development to transform the livelihood of the poor," he said.
He also cited the numerous assistance that the donors have given to the people of the country, especially during the month of Ramadan and tobaski.
"We have nothing to tell them but to thank and pray for them to continue supporting poor people in The Gambia," Jawo stated.
Read Other Articles In Article (Archive)