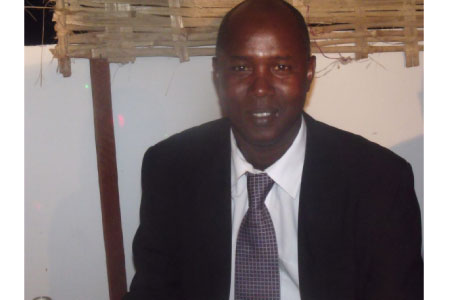 The general public is hereby being informed that the National Sports Council is empowered by its Act of 2000 to register or deregister national sports associations as the case may be.
Section 17 (1) states that the National Sports Council shall keep and maintain a Register of National Sports Associations. 
Section 17 (2) states that where any amendment is made to the constitution or rules of registered National Sports Associations, or any alteration occurs in any of the matters or things in respect whereof particulars are required to be given as prescribed, such National Sports Association shall forthwith give particulars in writing of such amendment or alteration, as the case maybe, to the Council. 
Section 17 (3) states that as soon as is practicable after receiving an application referred to in subsection (2), the sports council shall consider the application. If the National Sports Council is satisfied as to the suitability of the amendment, cause the amendment to be registered in the books of the Council.
Section 18 (1) of the Act states that where the Council considers that any registered National Sports Association has;
(a) ceased to operate as a national sports association,  and           failed to comply        with any provision of this Act, or
(b) conducted itself in a manner which is contrary to the national interest
(c) failed to comply with its constitution,
The council may, after affording the national sports association concerned an opportunity of making representation on the matter, suspend, ban or expel all or any of its officers from holding office in any association registered under this Act.
In light of the above cited sections, the following 10 (ten) national sports associations are duly recognised as national sports associations legible to operate in the country having fulfilled the criteria set out by the National Sports Council.
1. Gambia Football Association
2. Gambia Wrestling Association
3. Gambia Golf Association
4. Gambia Secondary School Sports Association
5. Gambia Primary School Sports Association
6. Gambia Cricket Association
7. Gambia Sports Journalists Association
8. National Inter department Association
9. Gambia Athletic Association
In the same vein, the under-mentioned associations have with effect from today 18 June 2012 ceased to be national sports associations and their executive committees, if they have ever existed, have been dissolved with immediate effect.
1. Gambia Fencing Association,
2. Gambia Rugby Association,
3. Gambia Kung-Fu Association
4. Gambia Cycling Association
5. Gambia Lawn Tennis Association
6. Gambia Deaf and Hard of Hearing Association
7. Gambia National Paralympics Association
8. Gambia National Paralympics Committee
9. Gambia Volley Ball Association
10. Gambia Chess Association.
11. Gambia Taekwondo Association
12. Gambia Weightlifting & Body Building Association
13. Gambia Draught Association
14. Gambia Table Tennis Association
15. Gambia Handball Association
16.Gambia Swimming Association
17. Gambia Scrabble Association
18. Gambia Karate Association
19. Gambia Special Olympics
20. Gambia Softball Committee
21. Combine Service Sports Association
The general public is hereby informed that any individual or group of individuals that deal with the 20 (twenty) sports associations mentioned above are doing it at their own risk.
The National Sports Council in consultation with the Honorable Minister will identify credible people that will take charge of the affairs of the concerned associations to ensure a congress is held to elect a new executive in due course.
The National Sports Council will continue to ensure that national sports associations continue to conform to national and international rules, regulations, norms standards and codes of conduct governing the particulars of sport.
Read Other Articles In Article (Archive)