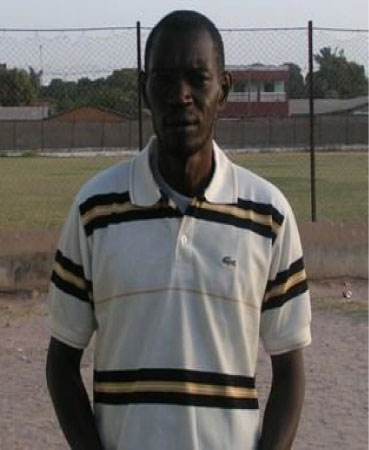 Alagie Sarr, head coach of Real De Banjul FC, has said he was "definitely very happy" winning this year's league title, after playing very well this season, up to the last game, to gain the crown.
Sarr ,who was speaking to reporters at a press conference shortly after his side's 3-1 win over neighbours Young Africans, added that he had no secret; all he has is hard work and making his players to understand, respect authority and one another, as well as maintain discipline as a team. "With this you can achieve whatever you want in football," he stated.
He also said that after the end of the first round, they called a meeting and told the players that they should have confidence in themselves that they could make it in the second round and that when they were motivated through the team's executive and coaching staff then they were able to achieve what they have achieved - winning the league title.
He also recalled saying last season that he was building a formidable team for the next three years so they can maintain the players.
"We started last season and were successful to come out second position in the league," he said, adding that they have done it by winning the league title this season.
Asked what was wrong at Seaview FC that he did not win the league with them, he said: "At Seaview FC it was a little bit of a problem; with me the job was very heavy because it was only me who was running the whole team."
He added: "Kemo was later brought from Steve Biko but you cannot have two managements in one team; it would be very difficult and that even some of the players, especially those from Bakau, thought that I would always bring players from Banjul, which brought a lot of sabotage in the team." However, he said, it was "just a misunderstanding".
Asked about what he made of his son (Modou Njie Sarr) being part of the team, he said: "I have coached him when I was in GPA FC and he was part of the team that won the league and Super Cup; so I think having him here again is a bonus for me.
"I know whenever he is playing, he looks outside and says that my dad is out there, so that motivates him to play more but not just because of me but also for the team."
"We have a squad of 30 players and I believe in all the players," he responded when further asked about Alagie Modou Jobe, his goalkeeper and skipper of the team who has not featured for the team in their past two games.
"I use to tell them if any player comes in and performs well, I am not going to change that player," he remarked, adding that whenever he is building a team he always finds two or three players who are very good and look alike the way they play.
"If you look at Real De Banjul FC, I can bring in another team that will in the next game perform to expectations," Sarr also said.
Asked about the organizational aspect of the league, he said: "We have to work a little bit more on the organization because the league is slow and some games have to be also cancelled, which is not good in football."
He said all teams performed very well during the league, especially Serrekunda United, noting that he was very impressed with them during the league but that the teams need to be helped so that all can work hard in having a better national team.
When it was put to him that a table and trophy was not set for the league winners, he said: "We don't know why but normally they bring trophies in the final match."
He was not disappointed that it was not set, he said, adding that he thinks it was the problem of the FA.
When also told that some people are of the view that the game was Banjulnised, he said: "That is their opinion but we play football."
"Last season we played against Wallidan FC, which is a Banjul team, and we were second position in the league and if we had beaten them we were going to lead Brikama United but they came out and gave us a proof; so this is not about Banjul or Serrekunda." he said, noting: "This is not about Banjul and Serrekunda but The Gambia and let us work together in the interest of the of The Gambia."
Read Other Articles In Article (Archive)