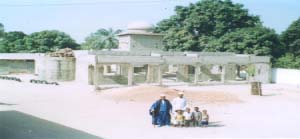 Imam Cherno Jallow, Imam of Nema Kunku Fula Kunda Mosque, and members of the mosque committee have appealed to Muslims in The Gambia and beyond, including the President of The Gambia, to come to their aid for the completion of their village mosque.
Imam Jallow said: "The building of the mosque is almost completed but we are kindly appealing for help and donation of the following materials: corrugates, red timbers-ruff, timbers-latte, oil paints, cap nails, flow tiles, light bulbs and electric fan, for the completion of the mosque."
The imam said they have had to resort to making an appeal for financial help because they had no source for the wherewithal to complete the building of the mosque, which is at its tail end or completion stage.
"We are appealing to anyone for donation in cash or kind to complete the building of the mosque," he added.
According to Imam Jallow, the community started building the mosque four years ago without assistance, but they are presently in extreme financial difficulty to complete the building. "It will be hard for us to be praying in the mosque now, especially in this raining season," he said.
For any assistance towards the mosque, the esteemed individual or institutions can call Imam Jallow on 9957506, deputy Imam Cherno Bubacarr Jallow on 9122424, the mosque financial controller, Hamidou Bah, on 9919627 or the Billal of the mosque, Bubacarr Jallow, on 7200286.
Read Other Articles In Article (Archive)