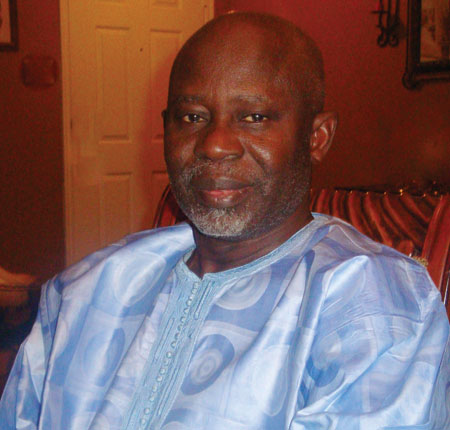 As the dust surrounding the political impasse in Ivory Coast is showing no sign of abating, Ousainou Darboe, leader of the opposition United Democratic Party, has condemned the hanging onto power by the incumbent, Laurent Gbagbo, describing it as "unjustifiable and self-perpetuating rule".
Darboe spoke in an interview with this reporter, at the weekend, in which he dwelt on a wide range of issues both at the national and international level.
In this interview, the Gambian opposition leader stressed the need for Gbagbo to concede defeat and cooperate with the Government of Alassan Ouattara, for the betterment of Ivorians.
What follows are the views of the UDP leader on a number of issues:
On the Ivory Coast Situation
It is unfortunate that Laurent Gbagbo has lost a great opportunity, an opportunity to make an indelible positive mark in the history of Africa. I expected he would have called Alasana Ouattara, sat with him and called on all Ivorians to cooperate with Ouattara's government, and gave him the maximum support. I thought he would have pledged his utmost loyalty and support to the county, the constitution of Ivory Coast and to assure him (Ouattara) that he would always be available when needed on any issues of national interest.
He would have made himself the darling of hope for young people in Africa, who are looking forward to see a peaceful transition of government, but he continues to receive condemnations from everyone. The UDP condemns his hanging onto power, which is unjustified. Laurent Gbagbo has lost the confidence of the people of Ivory Coast, who voted him out. The so-called constitutional court has caused problems in Ivory Coast by overturning the results announced by the electoral commission. The court has now put Ivory Coast on fire again, which is very unfortunate.
We all condemn the self-perpetuating rule of Gbagbo, who wants to do the Robert Mugabe style of power-sharing with the party that has won the election. We are happy that the chairman of the sub-regional bloc ECOWAS, Goodluck Jonathan (President of Nigeria), has made it very clear that illegitimately coming to power will no longer be tolerated in Africa. I think other heads of state in the sub region should also do the same.
Reaction to Yankuba Colley on UDP Party Structure, Agenda
The recent launching of the National Women's Federation shows that the UDP has structures in place, and you hear the UDP women's wing was very strong in the federation. If Colley says we don't have structures in place, he is speaking his opinion. But what can you expect from somebody like Yankuba Colley, a man who is not even well-informed about what is coming out of his office (Colley is mayor of Kanifing Municipality). He just made that unguided and unsupportable statement, and it does not surprise me at all.
If Yankuba knows, and is convinced that the UDP and other opposition parties cannot pose any threat to the ruling APRC, why are they calling for 'No Election'? If they have the confidence that they have the support of the people, let us have elections, and I mean elections conducted on a level playing field, where my Propaganda Secretary and he (Colley) will go face to face on television, and address Gambians. When I and President Jammeh will go on TV and talk to Gambians, then they will know whether or not we pose any threat to them.
In fact, I don't think this will happen, for the opposition and ruling party to go on tv face to face, as in other countries. This is because GRTS does not even cover meetings or rallies of the opposition.
On the Gambia Moral Congress (GMC) alliance with UDP 
I welcome the support and declaration of Mai Fatty, leader of the opposition Gambia Moral Congress, and I believe that he is taking the right decision and his party is on the right path. There should be no ambivalence in confronting the ruling APRC party. I hope that what he has done will be an eye opener for other parties. Certainly, Mai Fatty is a well known figure, a famous lawyer, and it is obvious he has a party which is legally recognized otherwise the IEC would not have registered him.
Some people tend to measure holding of meetings as indicators of party existence, which in my humble view is not the case. These are not the only indicators. We all have been following him on the online newspapers, and he is making very good contributions towards discrediting the ruling APRC.
When you talk about politics in this country, people tend to look at it on an individual basis; they do not look at the party itself. After all, Mai is not GMC; it is the people whom he has formed the party with. Mai Fatty has support in the Gambia otherwise the party would not have come into existence.
If a political party is formed, those involved carry out a great deal of consultations not only within the area where they live, but throughout the whole country. These consultations are done as to whether it is viable to form a political party or not.
UDP relations with NRP  
Let me say that I am one who does not divulge discussions that I have with other political parties in private, unless I have got their permission to do so; but one thing that is certain is that Hamat Bah and I are on the same wavelength; we think alike. The pronouncements he made at the recently concluded UDP Congress at Jarra Soma speaks volumes, and he has the support of the UDP and that he will continue to support the United Democratic Party.
That does not mean that his party should not have structures and an agenda; otherwise what is the essence of forming an alliance with a party that has no structure and agenda; a party without mobilization. Let me say that Hamat Bah and I are on the same wavelength.
UDP Agenda for 2011
Our focus on the 2011 election (for the presidency) is not just to win, but also after winning, to have a constitutional conference of all political parties, civil society organizations, so that we look at the present constitution, craft a constitution that is not only workable out of it, but also respond to the aspirations of the people and their development. These include press freedom, a presidential term limit, and absolute independence of the legislature and judiciary from the executive.
This will ensure that no president will have the power to dissolve a National Assembly; and no president will have the power to dismiss a judge, whether on contract or permanent appointment, without going through due process of law. We want the civil service to be neutral, efficient, and respected and security of tenure for all public officials, and the constitutional role of the security forces will also be well guaranteed.
Read Other Articles In Article (Archive)