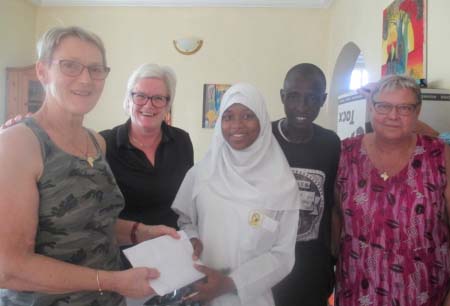 A Danish NGO called School for Health project (SOS – Gambia) at the weekend inaugurated a newly constructed skills training centre at Tujereng village, Kombo South District.
The Denmark-based organisation built the institute in partnership with its local counterpart, Foundation for Needy – Gambia (FON Gambia).
The construction of the centre, fully equipped with state-of-the-earth equipment and furniture, is said to have cost D4 million.
The centre will offer courses in business management, information technology, mathematics and English language proficiency, for a start.
By the next academic year, it is expected to introduce catering and agricultural science, and also technical courses like auto-mechanics, welding and fabrication, electrical installation, and building and construction will be incorporated in the curriculum.
Already, 50 people are enrolled at the skills centre for various three-year programmes and they are all on scholarship.
Speaking at the inauguration, Momodou Lamin Jagne, chairperson of FON Gambia, said the centre is established to help the Gambian people to be professionals and be self-reliant to avoid the concepts of travelling to Europe, particularly through the back-way.
He said the inauguration of the centre is a dream come true for SOS-Gambia, FON Gambia and the community of Tujereng.
Mr Jagne said since its inception, the foundation has supported hundreds of students and their families through its bursary programme in West Coast Region, Kanifing Municipality and North Bank Region.
He pointed out that since 2014 the foundation has disbursed more than D1.5 million in bursaries for needy students attending nursery, lower basic, upper basic, vocational and technical institutes, and senior secondary schools.
The FON Gambia chairperson said the foundation has brought in a 40ft container full of educational materials and furniture.The materials were distributed to various needy educational institutions and students under its bursary programme.
He said the number of students under the foundation's bursary programme will increase from 50 to 100 by the next academic year.
Chairperson of SOS-Gambia, Susan Skov, said the centre will help the young people who "lack faith in the future".
She said since the organisation started in 2004, it has helped a lot of needy students and renovated several health centres and schools.
The chairperson of the Danish NGO said the organisation had spent more than D12.8 million in The Gambia.
The Alkalo of Tujereng village, Karamo Bojang, expressed his delight in the construction of the skills training centre in the village.
Bojang, who is also the principal of Nusrat Senior Secondary School, said the land of the centre was provided to the donors free of charge.
A beneficiary student of FON Gambia, Abass Kamara, commended the donors for their unflinching support towards the development of young Gambians since inception.
He said: "FON Gambia has really played tremendous part in discovering my purpose of life because without their help, today my future would have still been blink.Thanks to them I can now see my future perfectly bright with the divine hand of God."
Read Other Articles In Article (Archive)