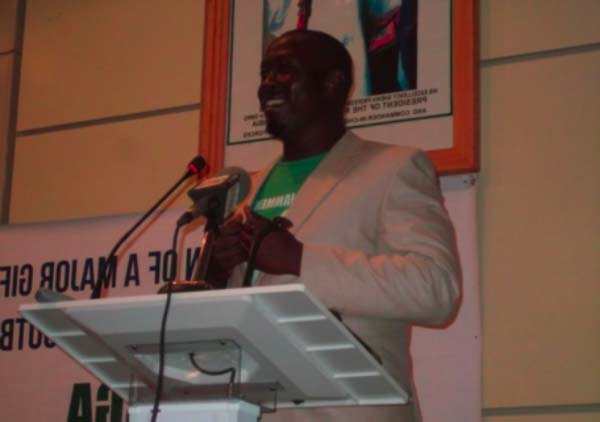 NORGA, an international Holding Company Ltd from Norway, on Saturday unveiled a sports facility project worth D20 million to be erected in Brufut village, Kombo North District West Coast Region.
The mini stadium, a multipurpose facility, will include school, supermarket, merchandise stores and IT centres as well as football academy, among others, in the same premises.
This was disclosed at the Kairaba Beach Hotel at a dinner, which brought together officials from the Youth and Sports ministry, the GFF and the Brufut community as well as the Brufut United FC and others.
The occasion witnessed a presentation of certificates to the Brufut United FC for their achievement in reaching the level of a 2nd Division team.
According to officials, D10 million has been already deposited in one of the banks in The Gambia waiting for the commencement of the project, as the NORGA officials are working with the relevant authorities for the identification of a plot of land for the project. This is a combination of sports development and quality education.
Speaking on the occasion, Mamadi Ceesay of NORGA said they had already secured the funds for the project, adding that they are going to build a top modern stadium in Brufut after the land allocation.
According to Ceesay, they have had containers already filled with artificial carpets packed and packaged for The Gambia, particularly for Brufut.
This is being done together with Mr Ceesay's partners and investors from abroad for the development of Brufut and Gambian football in general.
He said: "We want to build a school in the same premises which will range from grade one to grade 12. The school will have free uniforms, free launch with a minimum school fees and we are trying to see how we can have transports for the children going to be enrolled in the school. "Free uniforms and lunch is already guaranteed," he informed the audience.
He said The Gambia has talented sports people who need help to achieve their dreams in their endeavours.
They have 50,000 Euros worth of sports equipment and items to be distributed among seventy teams across the seven regions in the country.
Ceesay said his father was among the first Gambians who went to Norway in 1960.
"For us we think that education is fundamental. I was born, raised and attended school in Norway and we don't pay to go to school," he said.
"This is The Gambia and not everybody is rich, but some people will make school as one of the biggest businesses, but for me, school is not about business, it is about learning because everybody should have the right to learn. That is why we decide to lower the school fees."
"Gambia is where I have my roots from and it is here I am going to invest and develop and it is here I am going to stay," he said, adding that he wants Gambia to develop in all aspects including sport.
He said that his friends and the connections he has made are people who stand by their words and who would soon also visit The Gambia.
He urged people to be loyal to their government, country, work, and that one should not be an obstacle to another's progress.
 He also appealed to Brufut United FC players to be loyal to the team and their coach. Lamin Cham chaired the occasion. 
Read Other Articles In Article (Archive)